Do you need any other words except this name to understand what Euphoria strain is? This well-known honored veteran of the weed market has the reputation of marijuana that gives you smooth and pleasant feeling of happiness and upbeat, however, within reasonable limits. At the same time, Euphoria CBD cannabis is an effective medicine, used by many people for multiple purposes. How does this simple specimen possess such subtle magical powers? We'll try to understand it in this Euphoria review.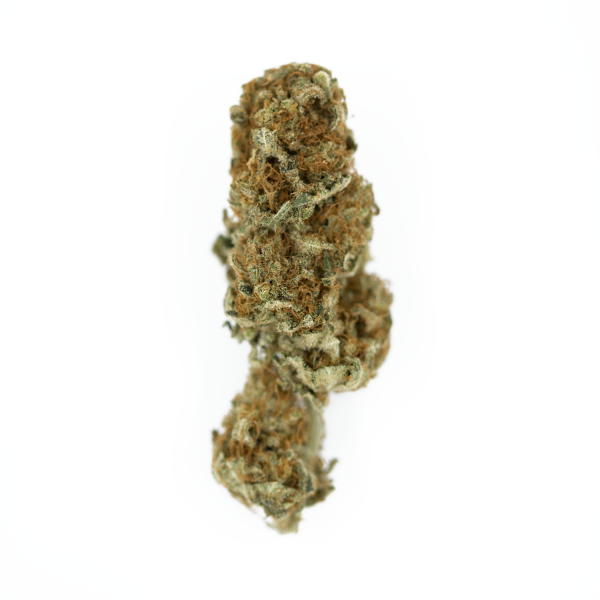 As in any other weed, the chemistry and genetics are the factors that play into the effects of Euphoria CBD. Here is the basic info of this strain: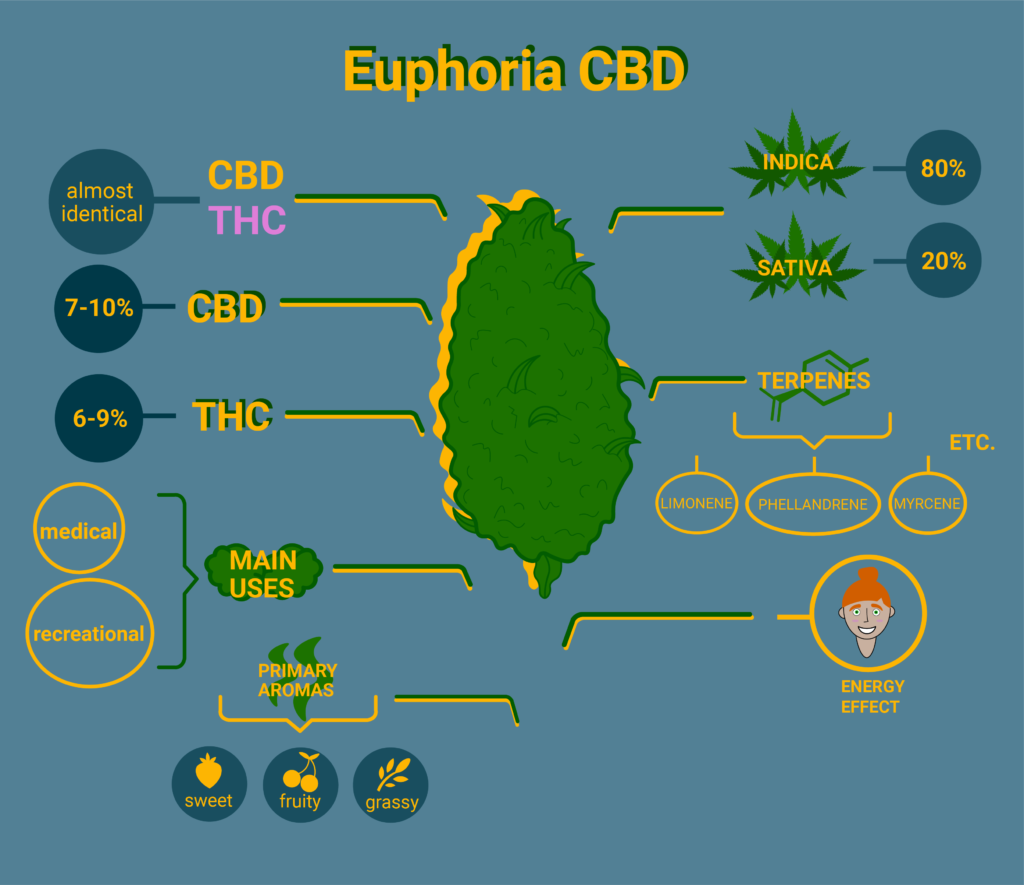 its genotype is 80% indica and 20% sativa;
the content of THC and CBD is almost identical;
the concentration of tetrahydrocannabinol is from 6 to 9%;
cannabidiol averagely ranges between 7 and 10%;
Euphoria CBD pot produces moderate psychoactive effect;
top terpenes of Euphoria strain are typical for CBD strains: myrcene, limonene, phellandrene, valencene, geraniol, and linalool;
used for both recreational and medicinal purposes;
prevalent action: makes you euphoric and vigorous;
main flavors: grassy, fruity; sweet.
Euphoria strain yields in early October, and gives up to 500 grams of off-the-shelf product from one plant. This marijuana can grow indoors and outdoors, and the time of flowering is 8 weeks.
History of Euphoria CBD Strain
The company Royal Queen Seeds is one of the most successful and reputable marijuana breeders in Europe. It has been producing cultivars for more than 20 years, which makes them also one of the most experienced ones. Their strains have numerous weed fans and cups.
One of such cultivars is Royal Medic. This strain is a child of an old famous CBD-rich Juanita la Lagrimosa. This is where our Euphoria hemp takes its high CBD profile and medical properties. Abundant cropping capacity of this ancestor adds to the benefits of the reviewed weed, too.
Another parent of Euphoria is Shark Shock, the brainchild of Mr. Nice Seeds. This strain is known from 1990s, and was even honored with the High Time Cannabis Cup. Its main advantage is its efficiency. Shark Shock gives bountiful harvest, and is very easy to grow indoors and outdoors. This heredity is the reason to choose Euphoria CBD seeds to raise your own pot.
Exterior of the Euphoria Flowers and Buds
The plant height differs from 60-100 cm to 120-150 cm, where marijuana grown outdoors is higher. Euphoria CBD marijuana has unique appearance. The flowers look like cylinders with green leaves and bright yellow and peach-colored hairs that grow abundantly all over the flower. Both flowers and buds are super dense.
Euphoria buds look consistent and yellowish, with rare inclusions of green color. Due to low THC content, Euphoria CBD weed does not sprout lots of trichomes with resin crystals. This is why this hybrid is not as sticky as its congeners. Also, this is the reason why leaves and pistils are distinctively seen, and the colors are very bright.
Effects and Uses
Main medical indications Euphoria CBD strain is used for include:
it soothingly puts you to sleep. When you are tired after a hard working day, and your mind is full of thoughts, and body is restless, you need a joint with Euphoria pot. Unlike other hemps with lots of THC, it will not just knock you out and glue to the couch. Instead, you'll forget about all troubles and peacefully fall asleep;
it takes away stress, negativeness, bad mood, and anxiety. Struggling with depression, or just willing to relax, you'll hardly find anything better than Euphoria CBD;
obviously, Euphoria weed is a champ when it comes to make you happy and add some fun to your evening, with friends or alone;
it gives you motivation to live life and perform everyday activities;
and finally, Euphoria weed effectively and quickly eases any kind of pain.
After the first inhale, you will not notice any changes in your state, then little tingling comes that you feel in your mind and body. You won't notice big alterations in your ability to think and make decisions, but with each next whiff you'll feel like smiling and enjoying life.
Fragrance & Taste of Euphoria
The best thing about Euphoria strain is its flavor. When you smell the bud, you feel fruity and sweet aroma that makes you want to breathe deeper. Sweetness is the taste of happiness, so we can say that Euphoria takes its name from its fragrance. It is not rich with various hints, but it pleases you with familiar citrus and fruity notes that are associated with joy and smiles.
The taste that follows the aroma envelops your tongue with the flavor of your favorite fruits and sweets. This sweetness and fruitiness are not offensive or acrid. They disappear shortly after the last exhale, leaving you the fresh feeling, just like you did not smoke anything at all.
Final Thoughts
If you look at the average price of Euphoria CBD seeds or weed, you'll see another reason to choose this strain as your everyday means of relaxation and socializing. 5 seeds pack costs less than 40 bucks. We remember the yielding power of this strain, thus we can see the benefits.
Producing both "high" and medical effects, this weed is the best friend for any user, regardless of their needs and problems they try to solve. Hopefully, this Euphoria CBD review will help you make your own decision and find your favorite marijuana strain.