When choosing from a huge variety of cannabidiol-dominant strains, weed lovers often opt for a new cultivar Special Sauce CBD. This sought after cannabis is popular for its powerful yet invigorating effects. When your body is tired and mind needs energy for productive work — roll a joint with the Special Sauce CBD weed and puff away from your everyday troubles. Providing relaxation and peaceful mind, this hemp does not make you stoned or wasted.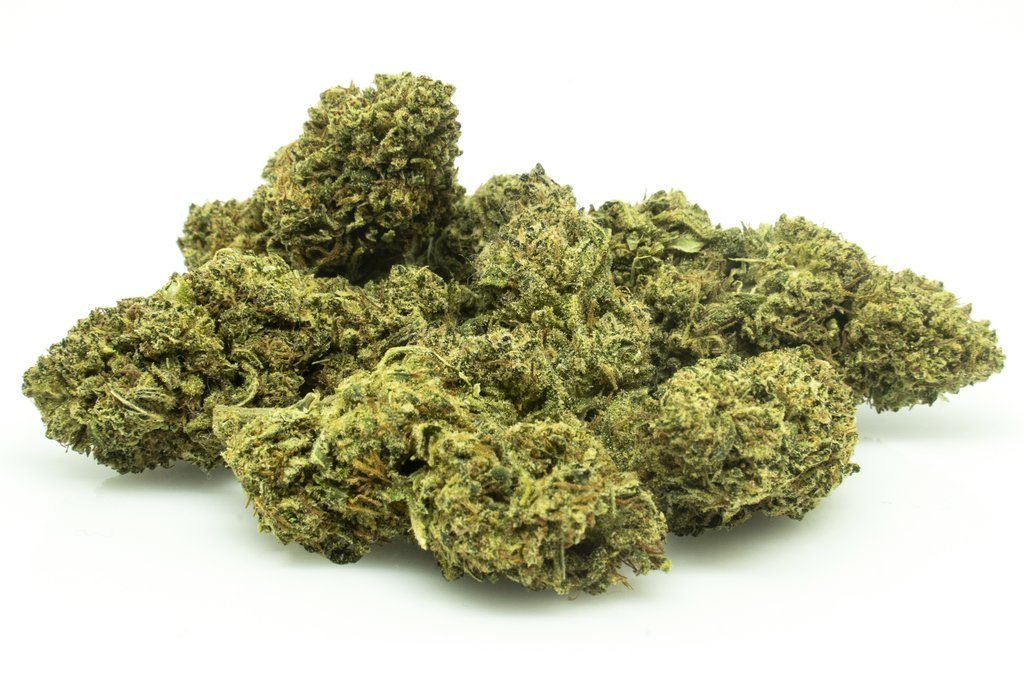 This Special Sauce CBD review will help you see the benefits of this cultivar. Here are the basics: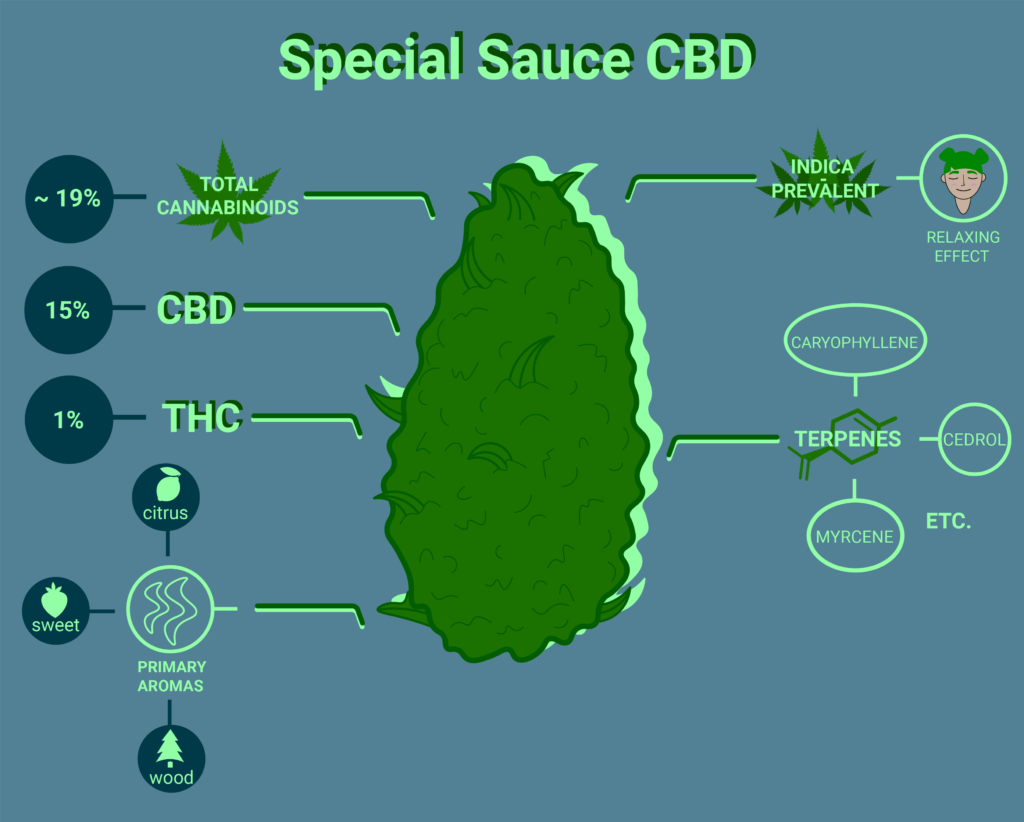 it is an indica-prevalent strain;
total content of cannabinoids is ~19%;
CBD vs THC ratio is more than 15% vs less than 1%;
total terpenes content is ~1.3-2%;
prevalent terpenes in order of amount are: myrcene, cedrol, caryophyllene, humulene, pinene, guaiol, limonene, ocimene, and bisabolol;
primary aromas are: hops, cinnamon, citrus, sweet, wood, pine;
primary outcomes: relaxation, meditation, enhanced cognition.
With Special Sauce CBD your brain will work creatively, you'll have productive and fruitful cognition, while your body stays in a meditative and relaxed state. Along with the advantageous effects, you'll enjoys its pleasant and smooth taste.
Where Special Sauce CBD Comes From
Motherland of the Special Sauce CBD strain is Oregon. Oregon CBD team took the Early Resign Berry strain and crossed it with one phenotype of the older Special Sauce weed. Both hemps were very popular, due to various reasons. The novel hybrid, combining all benefits of its parents, works out for the best for most marijuana users, especially those ones seeking for medical pot.
The formidable CBD concentration comes from the original Special Sauce. Relaxation and concentration we get from this weed is available due to this ancestor. There is a wide range of new Special Sauce products on the market, and they all bond over their main features — woody and earthy flavor and calming and anti-anxiety action.
Early Resign Berry, the second parent of Special Sauce reviewed here, brings to the table its bright and colorful aroma and taste. However, loud fruity and berry notes in the flavor are not the only benefits inherited from ERB. This hemp is also well-known for its ability to enhance mood, zest for life, and motivation, and it donates these powers to its offsprings.
Appearance And Consistency
The Special Sauce strain keeps most of its CBD in flowers and nugs. The buds are noticeably smaller than those of other strains. Manicured from the flower, they seem unimposing and humble, but hold off on opting for another more impressive cultivar. These little pals brings the same loads of aroma and strong action as its competitors.
Colors of the flowers of Special Sauce range from bright pine green to woody brown and further to orange hues. They are pleasing to the eye, with dense and springy little buds, and long thin hairs covering the entire nug. The tendrils are mostly yellow or orange, which makes this hemp look even better. A little bit fuzzy and frosty exterior can be explained by abundant white trichomes.
Despite being miniature, the nugs are rather solid and have a prominent coating of crystals. Plenty of hairs and trichomes makes the bud very sticky, and once you try to break it up in your hand, it will be covered with fragrant resin and crystals. This film stays on the skin and leaves stains on clothes and things.
Aroma and Taste of Special Sauce CBD
Special Sauce strain flowers smell grassy and green. The first impression is rather refreshing, but they you'll feel the strong tone of the resin smell that reminds gasoline. Tangy notes of lemon and pine nicely combine with the sour smell, camouflaging it and bringing the habitual fragrance of weed.
Dried buds deliver delicate and discreet mix of multiple scents. You'll notice berries, citrus fruits, vanilla and sandalwood. Then, on the background vocals, you'll feel the aroma of musk, earth, cinnamon, and hops. People new to marijuana, find the first sniffs from the package of Special Sauce CBD pleasing and comforting.
The taste of this hemp, as well as its scent, is bright yet delicate, not disturbing and comforting. Strong floral and sweet notes prevail over others. Still, herbal, earthy and woody flavors are very noticeable, and the smoke goes to the throat, you'll have the feeling like you've eaten some blend of berries with coffee hints.
How It Works For You
Main effects of the Special Sauce CBD strain are:
relieves stress;
combats depression and anxiety;
elevates and balances mood;
improves motivation
helps you enjoy life;
alleviates pain;
awakens the brain;
takes away discomfort and disturbing thoughts;
relaxes muscles and improves sleep.
Anxiolytic effects appear in a few minutes after the first puff, a little later comes analgesic action. The strongest performance of Special Sauce CBD weed peaks in a half an hour. This is why it is so good for severe acute pains and migraines.
It is also very well-reputable in patients with cancers, cramps and seizures. Easily alleviating such psychiatric problems like depression, panic attacks, apathy, etc., are easily treated with the Special Sauce CBD medical weed, especially when combined with professional therapy. It also works better together with other CBD products, like oils or topicals.
Takeaways
Special Sauce CBD hemp provides lots of benefits and next to zero risks. It does not make you too high, does not change your thinking and perception, it is really hard to overdose. Together with really advantageous costs, only 10$ per one gram, this strain is the best choice for those who seek after a smooth and delicate marijuana that performs strong and safe healing action.