Harlequin works in a traditional sativa manner and produces stable and powerful medicinal CBD effects. At the same time, it is good for socializing with friends making you mildly high relaxed. People who use this weed describe their experience as walking in the sunshine. As well as its namesake Italian comedian-actor wears multi-colored outfits, our Harlequin produces numerous effects. But don't think of it as of a laughingstock, this cannabis strain is a leader in the CBD world.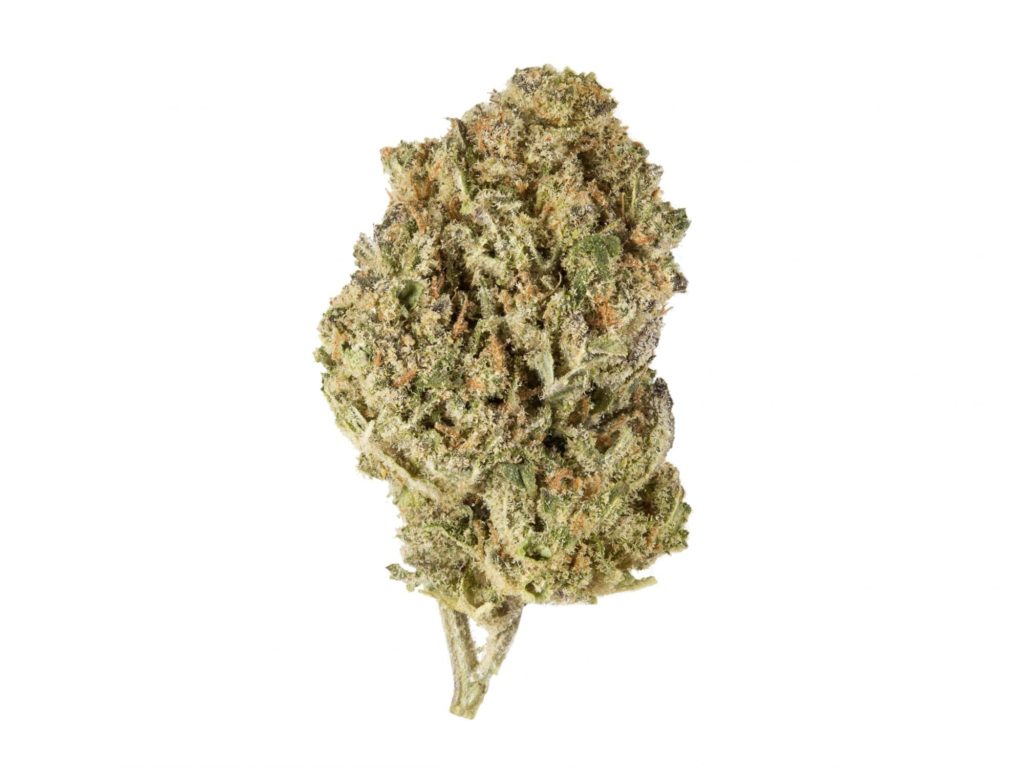 From this Harlequin CBD review, you'll see how it works and why it is so popular with the regular weed fans and cannabis experts. First of all, we need to look at the numbers and basic info of the strain: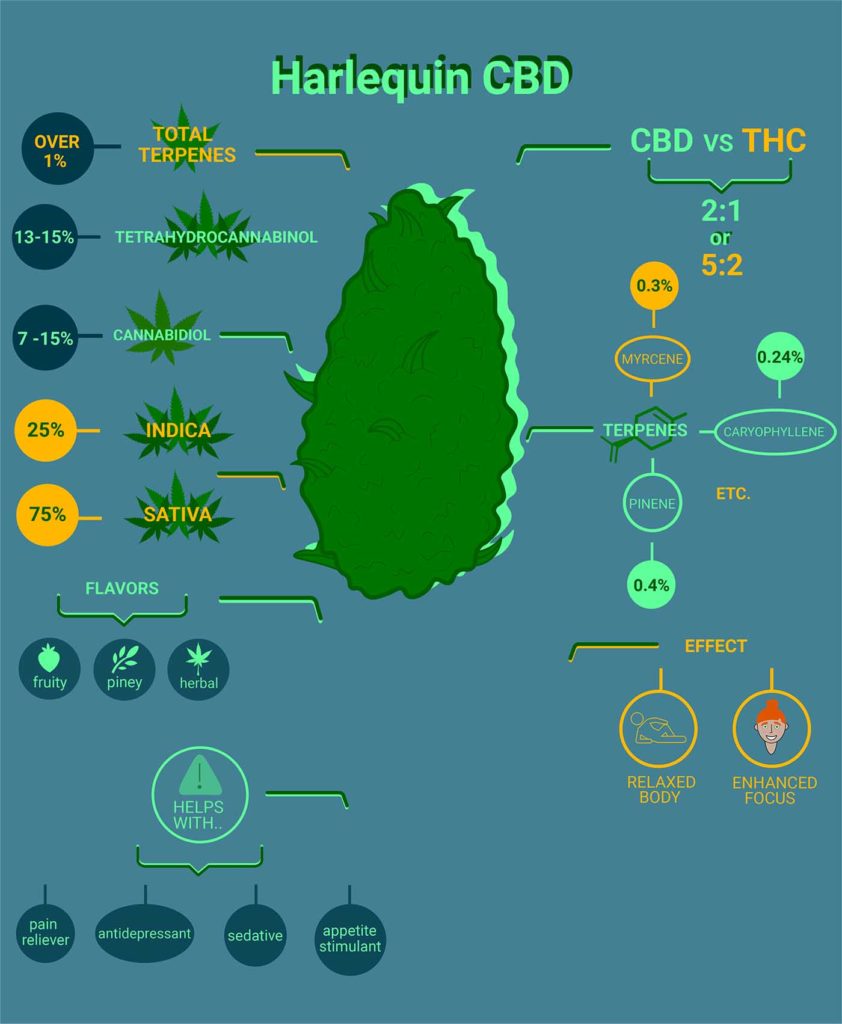 cannabidiol content varies from 7 to 15%;
tetrahydrocannabinol levels float between 3 and 15%;
usually, the CBD vs THC ratio is 2:1 or 5:2;
total terpenes make a little over 1% of the dry mass of the hemp;
main terpenes are: pinene ~0.4%, myrcene ~0.3%, caryophyllene ~0.24%;
other terpenes are humulene, limonene, ocimene, linalool, etc.;
Harlequin genetics consist of 75% of sativa and 25% of indica;
psychoactive effects of Harlequin are subtle and almost unnoticeable;
it is mostly used as a pain reliever, antidepressant, sedative, and appetite stimulant;
it is rather energizing than calming cannabis;
smoking harlequin gives you the feelings of enhanced focus, happiness, and relaxation;
main flavors are herbal, piney, and fruity.
These statistics will help us understand the magnificent qualities and powers of the Harlequin CBD strain. Let's have a deeper look at them.
Harlequin History
As well as its versatile performance, Harlequin's history also reminds the party-colored costume from the old-times street performance. Moreover, its family tree looks like a comedy show, because you'll not find two parent strains there. You'll find at least four! Harlequin hails from the marriage of a well-known strain from the 1960s Colombian Gold, which is also a parent for many other modern popular cultivars, and three landrace hemps — from Thailand, Nepal, and Switzerland.
Two sativas, Swiss and Thai, gave a lot to their descendant. The former propagated its ability to affect your brain and make you euphoric and high. The latter was famous in late 1970s for its wonderful citrus taste, which is now one of the reasons to love Harlequin pot. Nepali ancestor is an indica strain, its contribution to the reviewed weed is the abundant trichome coverlet with generous resin production. In 2019, one Harlequin variety won the 3rd Place at the Highlife Cup.
Harlequin Appearance and Consistency
Looking at the flower of the Harlequin hemp, you'll not see anything unusual — it has forest-green long leaves and long red, brown, and orange hairs of pistils. Here and there you'll see the flakes of purple. Trichomes thickly cover the plant, making it sparkle in the sunshine like a green diamond. Each trichome wears a wreath of the resin crystal.
The round-shaped buds are not large, but dense and tight, you won't break them up with fingers easily. Cured Harlequin nugs have the same colors are the flower, but paler with more yellow and brown hues. They are very sticky and gluey to touch and leave a thin oily slick on fingers and clothes.
Harlequin Aroma and Taste
The smell of the Harlequin strain pleases you with the bright citrus and mango notes accompanied with the usual to all CBD hemps strong earthy odor. What surprises you in the aroma of this weed is its overwhelming sweetness with the loud notes of vanilla and pine. The concert of aromas is not pungent, when burned in the room, it leaves a pleasant creamy scent that fades out quickly.
Harlequin has a traditional high-CBD taste. The first whiff brings you strong flavors of the fresh soil and wood, with the bitterness of green grass. With time, these flavors change for fruity and floral notes. As well as the smell, the Harlequin flavor is not too strong and offensive. In general, this weed leaves your taste buds satisfied, and you'll definitely want to try it again.
Harlequin Uses and Effects
Medical benefits of the Harlequin strain are numerous. To name just a few uses and indications of this weed:
headaches;
chronic and acute pain;
appetite loss;
depression;
insomnia;
muscle spasms;
epilepsy;
nausea;
anxiety;
mood swings;
lack of motivation, focus, and creativity;
inflammations;
osteoarthritis;
stress, etc.
The onset of Harlequin is powerful yet controlled and gentle. It does not make you stoned, it does not change your perception and thinking. Slowly but inevitably it relaxes your body and calms down thoughts. In a couple of minutes, Harlequin will eliminate tension in muscles and restlessness, bringing peace and harmony. You can talk to your friends or close ones, you can do whatever you need to do, but without stress, anxiety, anger, or exhaustion.
You'll feel that you are much happier than you were a minute ago, you'll want to smile and enjoy life. Your mind will get the boost of energy, and thoughts will become clear. You will be surprised, but with Harlequin, you'll find inspiration to resolve some tasks that were too hard to cope with before. The best thing about this pot is that it does not lock you to the couch or make you sleepy.
Final Thoughts
If you are looking for the best CBD strain — do not look further, Harlequin is your best choice. For no more than 8-12$ per one gram, it will awaken your mind and help you deal with your everyday chores. Choose your dispensary carefully! Remember, all popular weeds — and Harlequin is extremely popular — are widely falsified.
If you are a newcomer to the CBD weeds world, you'll be safe with Harlequin. You should not worry about the severe side effects or excessive high. From our Harlequin review, you can see that it works exactly in a manner you expect from a medical CBD marijuana. Enjoy!
We work across America: