Remedy CBD strain is a popular medicinal product used for numerous health issues. Being a high-CBD and low-THC hemp, it has gained a huge reputation among medical society and thousands of patients. It is one of those therapeutic marijuana cultivars that has been specially created to help people cope with their ailments. All the more, it does not cause any adverse psychological effects and lets you enjoy its wonderful aroma and taste without unwanted consequences.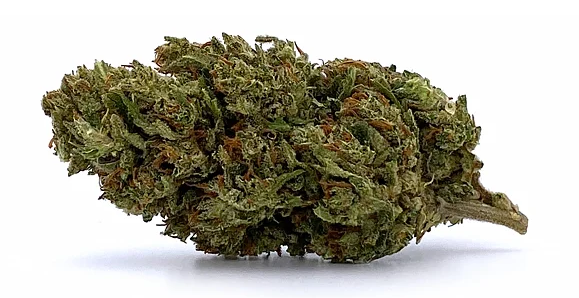 Like any medicinal drug, marijuana has active ingredients and a very delicate production process. You cannot understand its advantageous properties fully without understanding its chemistry, genealogy, and genetics. Here is the Remedy's basic info:
THC content in Remedy varies from 0.14% to 1% maximum;
CBD level is from 12 to 16%;
peak amount of total cannabinoids makes 16-18%;
main terpenes are beta-myrcene and beta-caryophyllene, they can be at the levels of 0.5-0.6%;
other terpenes are humulene, pinene, ocimene, limonene, and camphene;
Remedy CBD strain has one part of sativa and three parts of indica hybrid;
predominant flavors are herbal, earthy, and pine;
it has no psychoactive activity;
major effects are calming and relaxing.
In this Remedy review, we'll tell you about this weed in more detail.
Remedy CBD Appearance And Consistency
The flowers of the Remedy CBD weed are usually small or medium in size. Their shape reminds a spade or a fir-cone, with a broad pointless base and a tapering tip. Its leaves have the color of the fresh summer grass, with the bright yellow veins here and there, which make them look very attractive. The impression from the first sight is like you are looking at something refreshing and lemony.
The leaves are curly, thick, and broad, abundantly covered with white shining trichomes. Yellow twisted pistils look like the spurts of flame that spring from-between the leaves. And sometimes you may notice the purple and velvet hues on the little leaves on the tip of the spade. The buds are dense. They have a very tightly-packed consistency, which is not typical for the THC-low strains. The color is mostly green, with the bright yellow streaks and the light translucid coating of tiny hairs with sparkling crystals.
Remedy CBD Aroma And Taste
The cured Remedy CBD strain buds have a traditional to the hemp woody smell that reminds you of a bonfire. The odor of the fresh soil dominates all others, but with time, you notice the hints of pine and lime. When you grind them or break up with your fingers, you reveal stronger piny notes with the bright lemon and pepper. The first impression is delightful, like the spring breeze of the fresh air in the woods.
The first inhale gives you the feeling of the fresh lemon and pine forest, but the flavor is not offensive. The taste surges smoothly, one by one opening new hues of the rich and pleasant flavor profile of Remedy. On the exhale, the earthy tones come back, and the taste becomes more robust for a moment and then disappears without any unwanted after-tastes.
Remedy CBD Effects And Uses
Remedy strain belongs to the family of medicinal cannabis cultivars, and it was specially bred for this purpose. This is why those users who prefer THC-strong pot with the pronounced "high" effect do not choose Remedy. And on the contrary, the users, who like smooth and slow onset with no psychoactive outcomes, have made Remedy their best-seller. However, there are many reasons to choose this strain when you are looking for friendly, not superpotent, recreational cannabis. Remedy CBD Mary Jane is one of the best helpers when it comes to relaxation and meditation.
The first seconds with Remedy bring you the warming and cozy blanket of bodily and mental relaxation. You start breathing deeply and slowly and feel the restorative action of Remedy with every cell of your body. The race of thoughts stops, but you do not want to lay on the couch and sleep. Vice versa, you have the energy to cope with any problem, but you do not feel any stress or anxiety.
Yet, the main reason why people choose Remedy is its therapeutic powers. To name but a few, here are the physical ailments this weed helps with:
inflammations;
spasms;
various kinds of pain;
seizures and epilepsy;
depression;
mood swings;
moderate psychological disorders.
As you can see, you can replace almost the entire home medicine box with the Remedy CBD pot.
Remedy CBD Lineage
Remedy strain was created by the famous and reputed breeders who call themselves "the founders of the CBD movement." This team, Resin Seeds, initially created one extremely popular weed used for relaxation and pleasant smooth "high," the Cannatonic strain. That pot was almost perfect, but not ideal, the breeders were looking for a purely medicinal CBD marijuana.
So, they took the mother clone of Cannatonc and asked their colleagues from Mr. Nice Seeds to contribute a father strain. That was Afghan Skunk, known for its specific smell and relaxing properties. Mr. Nice and Resin Seeds even created the joint venture to work on the new cultivars, CBD Crew. All in all, they got the hybrid that possessed all qualities they needed — high CBD level, almost zero THC, and significant therapeutic powers, and named it Remedy.
Remedy CBD Final Thoughts
As you can see from our Remedy CBD review, this weed is just what the doctor ordered. It will calm down after a long working day, help you relax and get rid of stress, ease pain, and elevate mood. And all these for just 10 bucks per one gram of pot. Very good deal, don't you think?
We work across America: