Boax CBD hemp is an excellent exponent of those weeds that have it all. With this strain, we do not need to choose between pot with the best aroma and taste and the one that gives the best effects. Boax transcends the expectations of any sophisticated weed lover. And it's all thanks to the rich cannabinoid profile, unique combination of terpenes and flavonoids, THC:CBD ratio, and motherly thoughtful work of its breeders.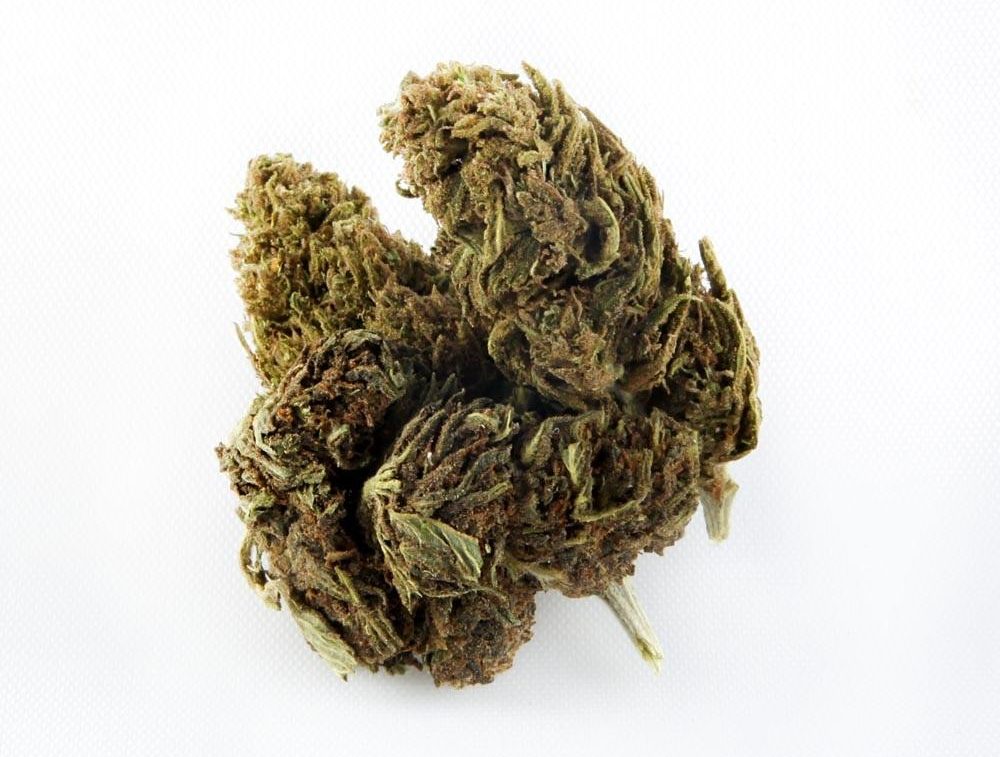 Let's start this Boax CBD review with dry statistics: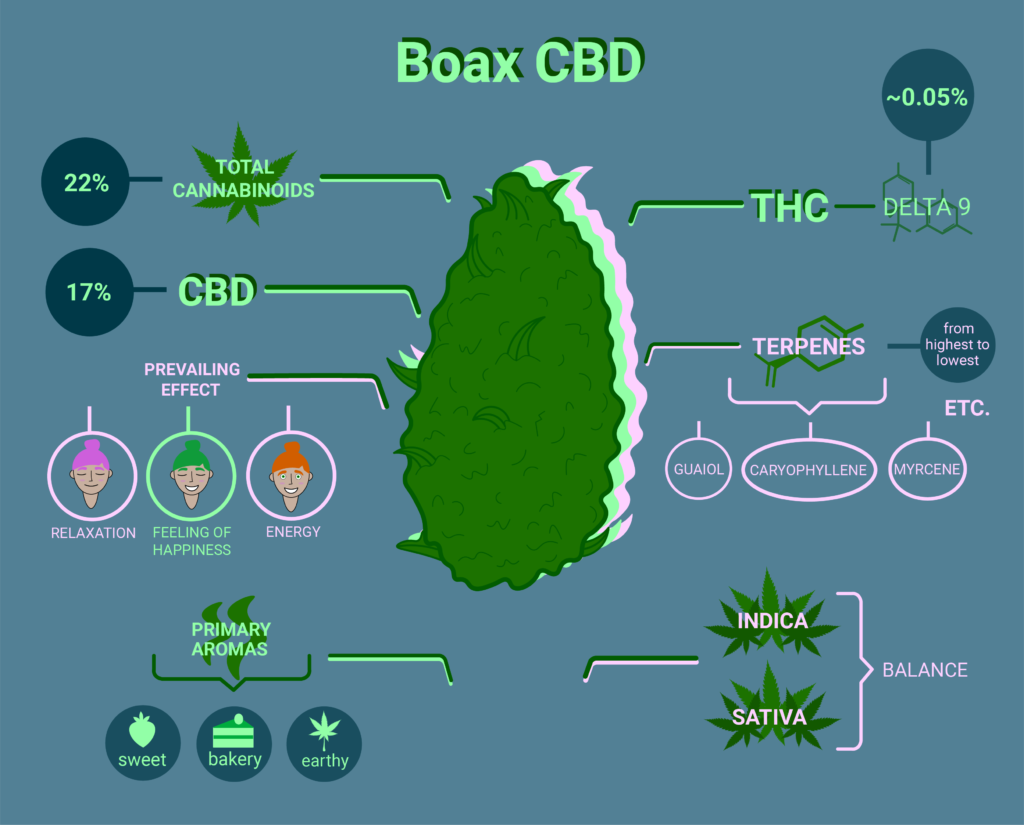 total cannabinoids detected during lab tests reaches almost 22%;
CBD level runs up to 17%;
delta 9 THC is almost undetectable — ~0.15%
terpene profile, from highest to lowest: guaiol, caryophyllene, myrcene, farnesene, trans-nerolidol, bisabolol, limonene, terpinene, pinene, ocimene, and linalool;
prevalent effects: feeling of happiness, enhanced energy, relaxation;
Boax has little to no psychoactive action;
it is a balanced indica-sativa hybrid;
dominant flavors: bakery, sandalwood, sweet, earthy.
Boax CBD strain is a powerful and at the same time well-controlled weed that remains you relaxed and uplifted, with clear thinking and peace of mind. But let's start from the very beginning.
Lineage
Motherland of Boax CBD strain is Colorado Springs. The breeders knew that there is a huge demand for pot that does not alter users' minds yet provides all marijuana advantageous effects. To this end, they took two completely different hemps — Hindu Kush and Otto 11.
The first parent comes from Asia, mountains in Pakistan and Afghanistan. It is a representative of a traditional, landrace marijuana strains. The word "kush" means "killer," and this weed does its job well. THC content in this pure indica weed exceeds 20%. This is where Boax takes its unique sandalwood taste and powerful relaxing effects.
Otto 11, the second parent of Boax CBD flower, is a sativa-indica hybrid that hails from Colorado. Its name encodes the unique chemistry of this hemp, as it should be read as Otto One to One. The ratio between two main cannabinoids, THC and CBD, it 1 to 1, approximately 8% each. Boax inherited its uplifting and mind-boosting powers from this ancestor.
Effects & Indications
Boax CBD strain works very quickly, the onset comes at the very moment of the first toke. Boax smoking gives you unique experience that combines energized yet clear mind and relaxed body. You'll feel happier, with slight and controlled euphoria. This mixture of effects can satisfy any, even the most choosey, pot user. And the one to thank for that is its chemical structure:
CBD-strong hemps are famous for their mind-boosting and relaxing effects, and Boax strain is not an exception. It alleviates muscle spasms and seizures, mitigates pain, treats depression and anxiety, relieves stress, and improves the sleeping cycle;
Boax CBD weed enhances creativity, vigor and concentration, helping you focus on daily tasks at home or work;
pinene present in Boax buds works as an anti-inflammatory and anti-microbial agent;
myrcene can help you fall asleep, relaxes muscles, and calms down the nervous system. It also has analgesic properties;
ocimene is responsible for additional energy and zest for life. It also produces significant anti-inflammatory and antioxidant effects, and improves the work of the immune system;
farnesene is believed to prevent some kinds of cancer.
Boax strain is good in a joint and in the form of CBD oils and extracts.
Exterior and Consistency
Boax CBD marijuana outstands with its small yet dense flowers and buds. The leaves are grass green and curled with one another. You'll see the yellow, purple, and orange fibers of pistils. The entire bud is covered with trichomes and shiny crystals. By touch, the buds are sticky, because of the abundant resin that covers them.
Flavor
The first scent you'll notice is sandalwood, which is pleasant and deep. The following notes discover the entire spectrum of Boax CBD pot aroma. You'll smell sweet candies and fruits thanks to myrcene, and fresh soil, spice, and bakery due to high caryophyllene content. Pinene provides the noticeable hints of wood and pine.
The taste of Boax weed follows its aroma, covering your tongue with woody and earthy sensations at the beginning. They change for sweet, lemon and fruity notes when you exhale. The joint with Boax leaves the feeling of a dry and puckered mouth. In general, the smell and taste of this strain is well-accepted by new and sophisticated users.
Conclusion
As you can see from this Boax review, this weed is perfect for medical uses. This cannabis cultivar takes care of your health, providing smooth yet powerful healing and pain-relieving effects. However, the recreational use of Boax buds is also popular, due to its ability to relax body and mind.
Many people brighten up their evenings after a hard working day with the help of Boax. Low costs, starting from 7.50 USD, add a lot to this popularity. Because of almost zero THC content, this strain complies with the Farm Bill and can be legally delivered to 50 states. Be careful, though, and choose only reputable and reliable suppliers.