It seems like high-CBD medical marijuana strains don't impress anybody here anymore, but this one is really amazing. Being a child of God and tricky comedian, this weed has many faces and ever-shifting nature, as a real celestial. Multiple phenotypes of CBD God Strain produce various actions and can surprise even the most experienced user. Today CBD God makes you high and euphoric, tomorrow you smoke it for additional energy and focus.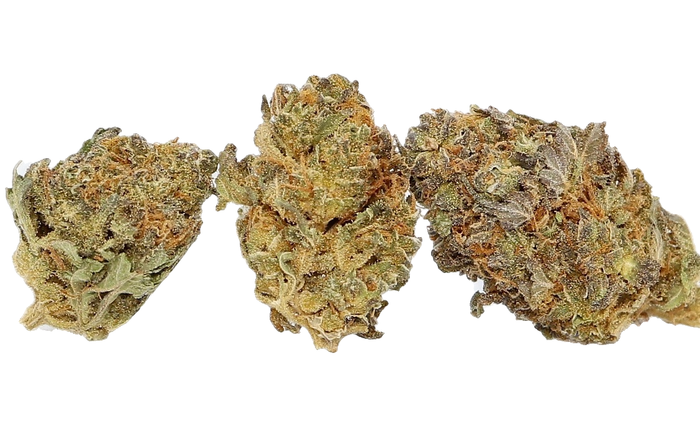 But first things first. Let's see some basics about this strain: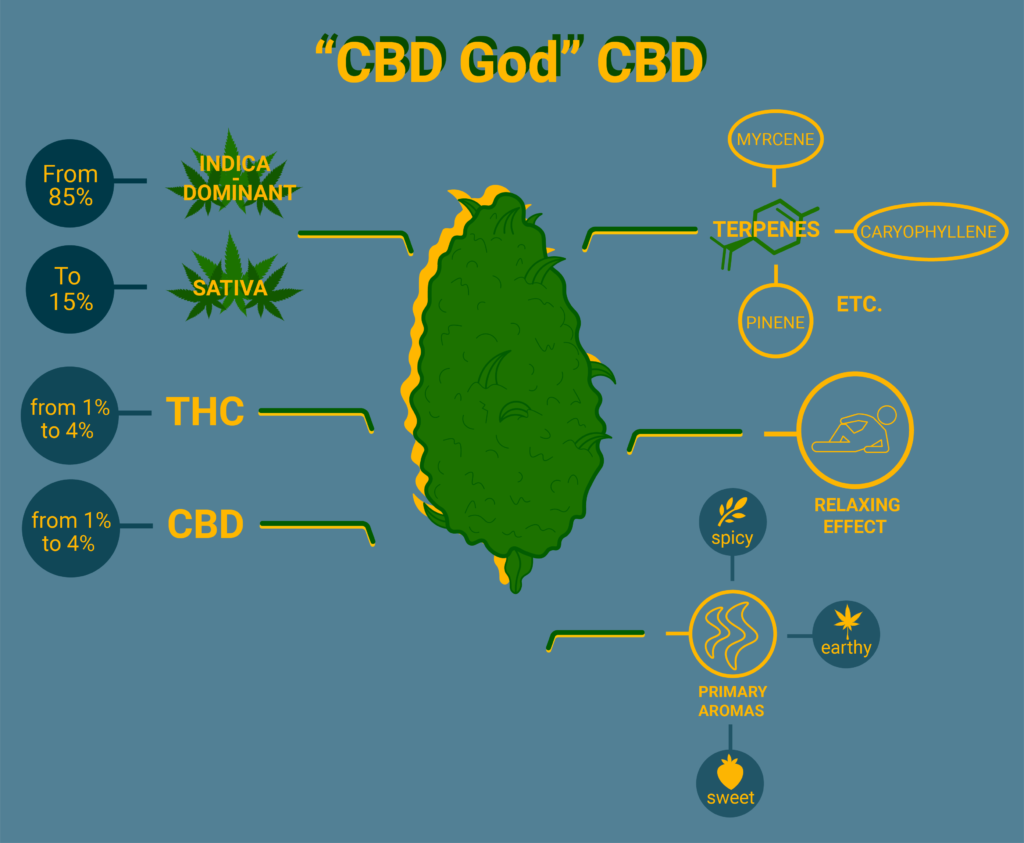 it is an indica-dominant hybrid, 85% indica to 15% sativa;
the level of THC in CBD God normally varies from 1% to 4%, but in some phenos can be much higher;
CBD content also differs, in some varieties it's no more than 1%, in others soars to 16% and more;
the most potent terpenes in CBD God are caryophyllene, myrcene, limonene, terpineol, and pinene;
it relaxes both body and mind, giving you little "high" effect together with all benefits of a CBD-strong pot;
psychoactive action is usually not pronounced due to lower THC concentration;
prevalent flavors are, in order of appearance: sweet, spicy, and earthy.
Further in this CBD God strain review we'll tell you all we could find about this weed.
History and Genealogy
The first CBD God marijuana seeds were cultivated at BC Bud Depot, in British Columbia. The Canadian breeders are also the authors of a popular THC-strong weed God Bud. Once, they've noticed that one of their buds gives more than 4% of CBD. It was a special God Bud flower, with long bright pink pistils.
They could not but try to develop and enhance this extravagance never seen in God Bud before, and took the female flower to the research center. Professional marijuana breeders married it to a male Harlequin pheno with 7% of cannabidiol and got a novel strain that was named CBD God. Still having the potency and impressive THC content of its mother, the child gave one of the highest CBD powers.
How It Works
During lab tests it was noticed that different CBD God seeds have different THC:CBD ratio. The lowest CBD level detected was 4%, while THC averagely reaches 1-4%. Thus, you can enjoy 1:1 THC vs CBD weed with all you need — euphoria, relaxation, enhanced creativity and brain energy. Or you can take a joint with another phenotype of CBD God and get all CBD gives with next to zero psychoactive effects of THC.
Common uses of CBD God include:
cancer-associated pains;
osteoarthritis;
muscle spasms and epilepsy;
migraines;
stress, depression, agitation, restlessness;
mood swings;
insomnia;
attention deficit disorder;
and, of course, it is also used for recreational purposes and socializing.
Rich and diverse terpenes profile makes CBD God strain a powerful medicine:
terpineol is an effective natural antioxidant;
caryophyllene helps with mood and psychiatric ailments;
myrcene combats inflammations and produces sedative effect;
pinene is a potent anti-bacterial agent.
For more relaxation or quicker pain-relieving action, you can use CBD God weed with the CBD oils or balms. Don't worry about overdosing, since cannabidiol is safe and well-tolerated even by novice users.
Aroma and Taste
CBD God strain has inherited the rich thick taste and aroma of its parents. Harlequin gave its sweet fruity and piney scent to the bud, which you feel right when you open the bag. Then you roll a joint and take a puff. The taste of CBD God weed is earthy and spicy, with musky notes, they come from the mother flower. Limonene and caryophyllene add strong hints of hops and citrus to the aftertaste. The general feeling of CBD God smoking is pleasant, with a slightly cotton mouth.
Appearance and Consistency
The CBD God flower is deep green in color, with long thick hairs that grow abundantly between the leaves. They are pale-yellow and bright-pink and purple. But the first thing you notice is the sparkling thin shawl of frostmist that covers leaves and pistils. The plant is over 50 inches high, and the flowers are also medium in size.
The buds are big and thick, very sticky by touch because of the plentiful resin crystals. CBD God nugs make your fingers sticky and oily. Buds are between 0.3 and 1.4 grams each, also thickly covered with trichomes and resin. They have coral structure, green color with brick-colored veins.
Where to Buy
You can buy CBD God seeds by BC Bud Depot for 90 USD per 12 seeds package, or 100 seed pack for only 500$. It is not much taking into account the advantageous effects of this weed and the yield that can be ~2 Oz from 1 square foot. There are multiple orders on the web, including the official online store of the breeder.
It can be grown both in- and outdoors, but be careful and always make sure that it's legal in your state. The dried flowers are available for 8.50 dollars, which is also a very good deal for such a powerful strain. Buy only from a well-trusted sellers! Hopefully, this CBD God review will help you make a choice!