Let us introduce you to the child of a party-colored frolic and inevitable force of the ocean? Harle-Tsu is at your service! This is one of the most powerful CBD-marijuana strains ever. The effects of Harlequin Tsunami, which is the full name of our weed, are amusing. But most of all it is known for its medicinal potency, and lots of people find relief and alleviation for their maladies in this cultivar. Our Harle-Tsu review will help you understand why it is so well-reputed and popular among all cannabis admirers.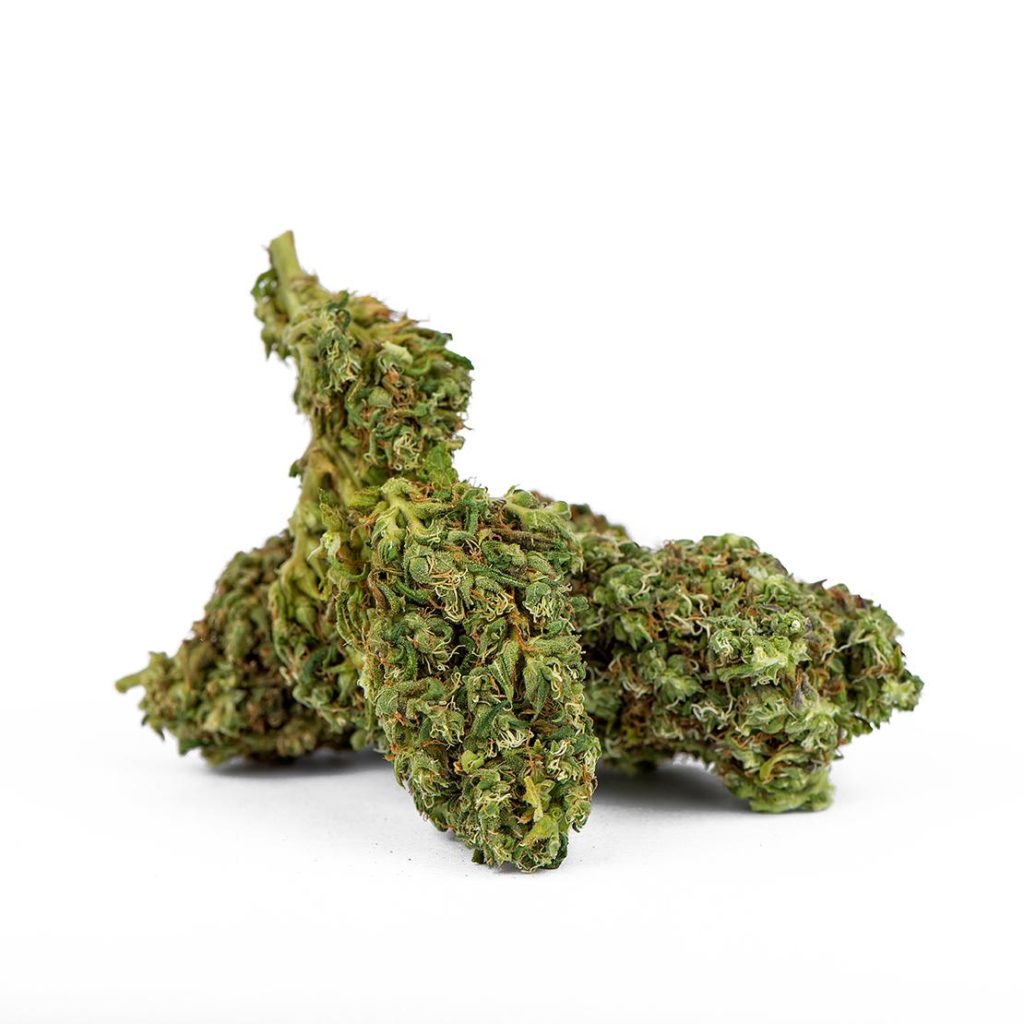 You will not be able to understand anything about any hemp strain without understanding its chemical structure, cannabinoids ratio, its lineage, and genetics. Here are the basics of Harle-Tsu: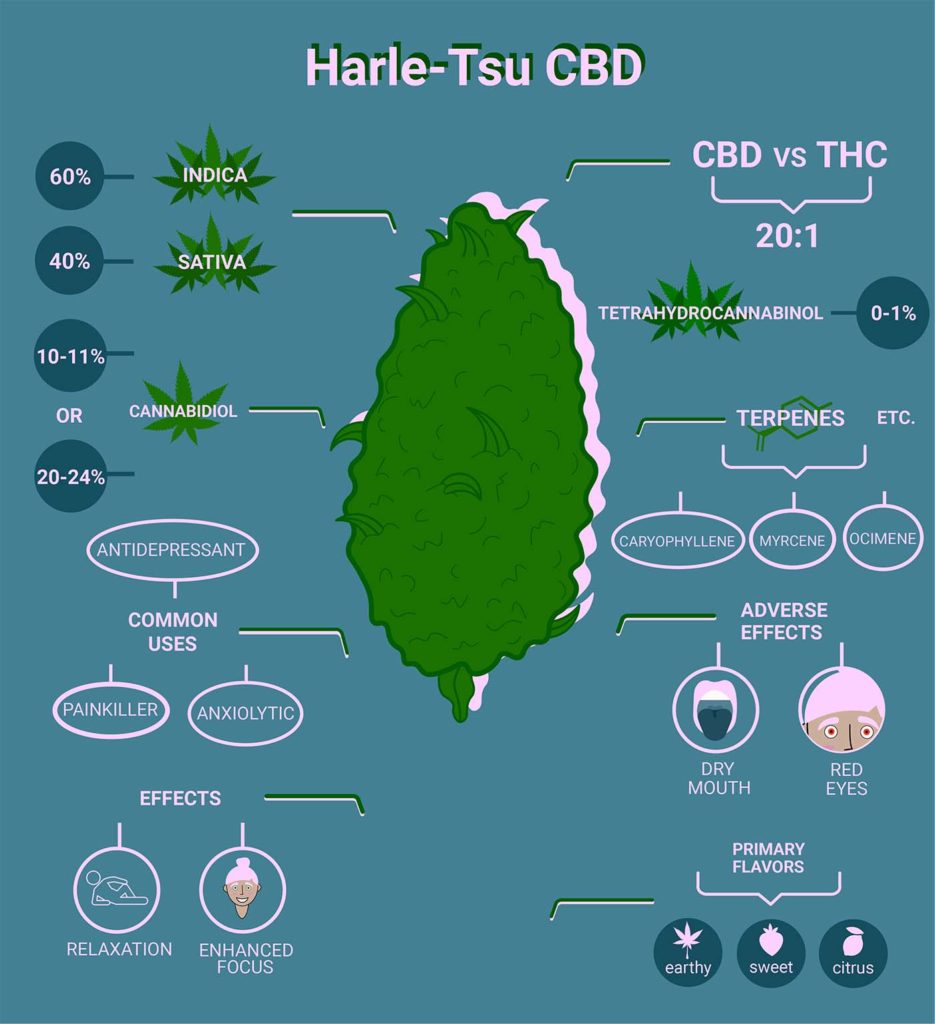 it is a 60% to 40% Indica/Sativa hybrid;
CBD vs THC ratio soars up to 20:1 and higher;
cannabidiol concentration varies from 10-11% to 20-24%, depending on the phenotype;
tetrahydrocannabinol ranges from almost 0 to 1%;
major terpenes are: myrcene, terpinolene, ocimene, humulene, caryophyllene;
Harle-Tsu causes little to no psychoactive effect;
common uses are: painkiller, stress reliever, anxiolytic, and antidepressant;
Harle-Tsu is rather calming than energizing;
adverse effects are rare and low, the most reported are headache, dry mouth, and red eyes;
predominant effects are relaxation, happiness, and enhanced focus;
the brightest flavors are earthy, sweet, and citrus.
Now, let's talk about Harle-Tsu in more detail.
Harle-Tsu History
Harle-Tsu was cultivated by an experienced and reputed team of cannabis breeders known as the Southern Humboldt Seeds Collective. It is a family business run Lawrence Ringo, the father, and his sons. They have been on the weed market for over 35 years now. Once, the founder of this company took one of his favorite cultivars Sour Tsunami, and the strain Harlequin known for its versatile effects.
The former ancestor was one of the first CBD medical strains that became popular. People liked it because it improved their health and did not make them stoned. Sour Tsunami was not THC-free, not even almost free, the CBD vs THC ratio was from 1:1 to 4:1. Still, this Harle-Tus's father gave to its descendant its rich taste, high CBD production, and beneficial effects.
The mother weed Harlequin has been on the market since the 1970s. It was bred by crossing four strains from different corners of the world. Harlequin provides numerous effects, it is good both for medical and recreational uses. As a result of this marriage of Sour Tsunami and Harlequin, we've got the strain that produces from normal 10% to astonishing 24% of CBD and holds the rightful place of one of the most powerful medical hemp strains.
Harle-Tsu Effects & Uses
High CBD content is always good for people who have a stressful job or simply a hard day. The first feeling after a Harle-Tsu toke is relaxation. Not only strained muscles but restless thoughts, too, stop bothering you in a minute. A pleasant feeling of warmth and tickling mantles your body from tip to toes, and you feel happy and uplifted. Yet, all this does not mean that you become disabled to perform your referral tasks or everyday chores at home. On the contrary, Harle-Tsu makes you energized and motivated to work, communicate with people, and stay active.
Together with the positive effects of CBD, the Harle-Tsu strain provides you with the medicinal powers of its terpenes:
abundant myrcene relaxes your muscles and drifts away depression, stress, and anxiety;
pinene gives you vigor and alertness, mitigates fatigue, helps with nausea and asthma, and even combats cancer;
humulene and caryophyllene work as powerful anti-inflammatory agents;
the latter also is a good treatment for ulcers and mood disorders;
terpinolene is an effective antioxidant, it kills germs and fungi, and also it co-works with CBD making you happier and uplifted;
ocimene is a great antibacterial and antiviral remedy.
Altogether, these active compounds of Harle-Tsu make it one of the best painkillers ever. The pain usually comes with inflammation and/or muscle spasms. As you can see, the Harle-Tsu CBD strain does not simply relieve the pain itself, which is only a symptom, but eliminates the reason for it.
Harle-Tsu Aroma & Taste
As well as with the medicinal effects, the flavor profile of Harle-Tsu is greatly determined by the terpenes found in the hemp:
myrcene, which is the most typical terpene in modern hemp strains, gives the smell and taste of earth, fresh grass, and musk;
caryophyllene is known for its spicy and woody flavor;
pinene adds strong piney notes to the Harle-Tsu smell;
terpinolene is responsible for herbal and floral aroma;
humulene provides the flavor of hops;
and ocimene is the one that gives that sweet citrus taste, which makes weed so popular.
All in all, you get the buds with the pleasant earthy and piney scent followed by the sweet fruity notes. The smell gets stronger when you break up the nug with fingers, it reveals the odor of citrus and spicy pepper. The taste starts with sweet and piney hues that change for traditional earthy and herbal notes when you exhale.
Harle-Tsu Consistency & Appearance
Harle-Tsu flowers look very nice, they look tall and slim and have long pale-green leaves. You'll notice long curly pistils that abundantly grow between the leaves. They have pale orange and green colors. The buds are hidden under this thick cover, but if you look closer, you'll see that they look like little grape berries, oval and lumpy. Nugs are fluffy, coated with the shawl of thin shiny trichomes.
However, being a THC-free strain, the Harle-Tsu strain does not produce lots of hairs with crystals of resin as other THC-rich hybrids. Dried nugs are also olive-green, with rare orange hues of pistils here and there. There is a certain veil of crunchy off-white trichomes, but you'll not see the glitter of resin, which is so common for weed. The buds are thick and very dense, not easy to break down. When smashed, they get sticky, so you better use some grinder to prepare a joint.
Harle-Tsu Outcomes
To finish this Harle-Tsu CBD review on a positive note, we cannot but tell you about the price of Harle-Tsu — it is more than advantageous. You can get 3.5 grams for only less than 9 dollars! However, the cost will depend on the phenotype you want to purchase because the CBD content can vary greatly. Always look at the specifics of the hemp you buy. And use only well-reputed online dispensaries, it will help you avoid scams and counterfeit.
We work across America: