Seeking for a CBD-rich marijuana, there is no need to go further than Charlotte's Web strain. This astonishing cultivar combines multiple medical and recreational powers. Charlotte's Web can be your safe and highly-effective remedy for epilepsy or acute pain. It can also help you relax in the evenings and forget about all your troubles. When it comes to hard brain work, it brings energy and concentration. Sounds like a perfect weed, doesn't it? Let's read this Charlotte's Web CBD review and see how this is even possible.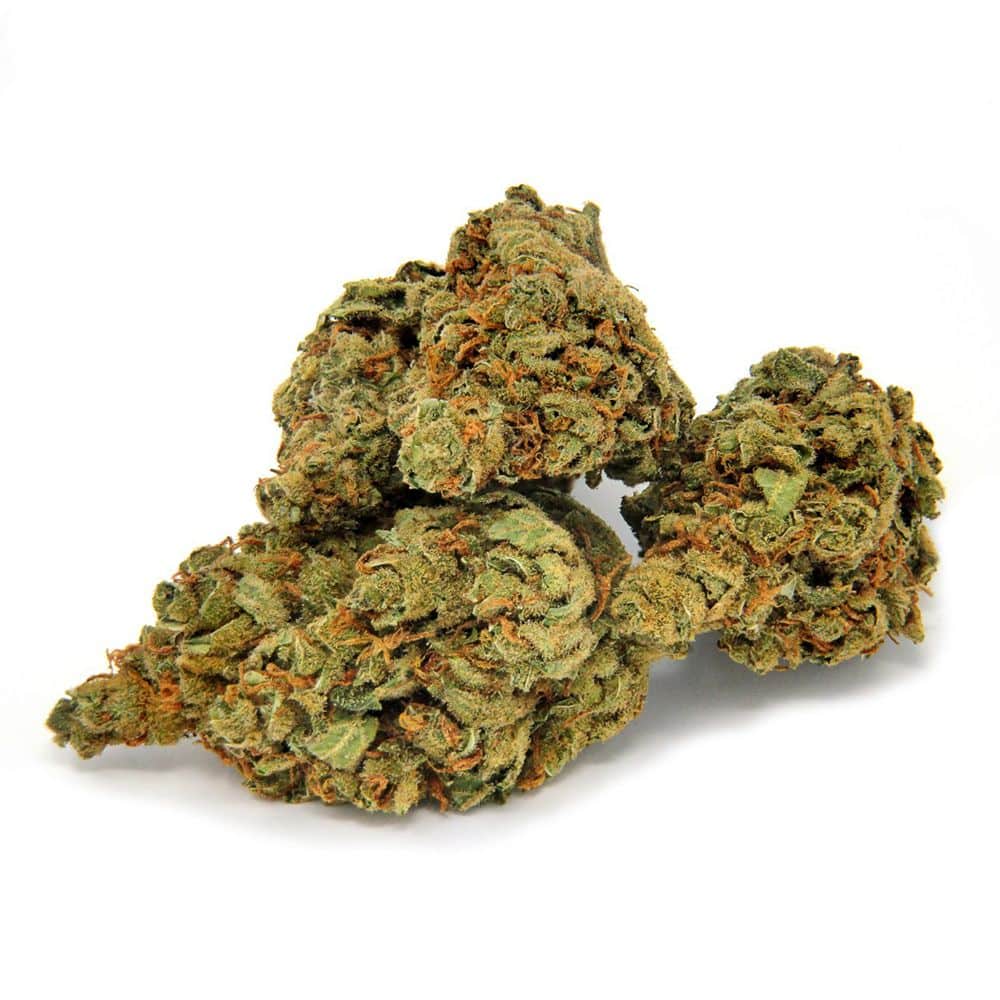 First of all, we'd like to give you the key information about this strain: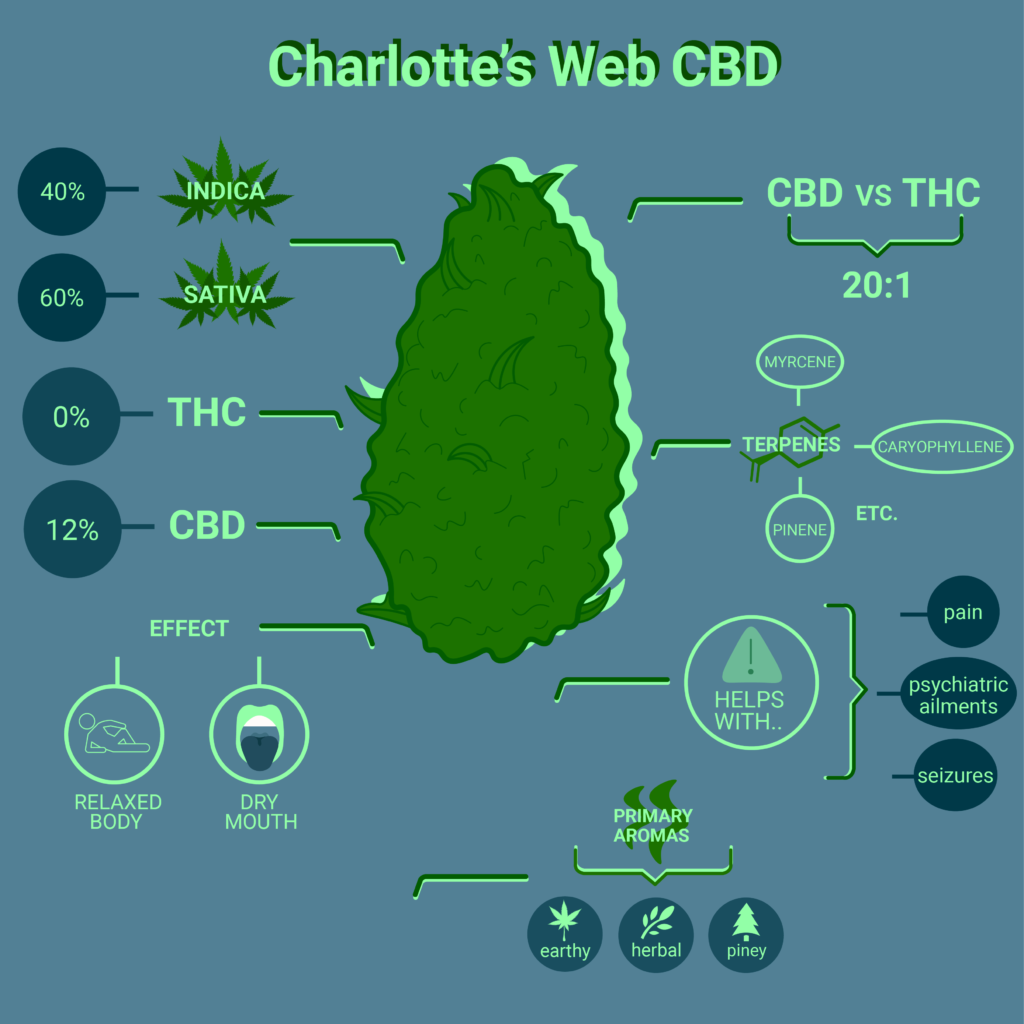 Charlotte's Web is a sativa cannabis strain, with 60% of sativa and 40% of indica genetics;
it has one of the highest CBD to THC ratio — 20:1 and higher, in fact, some say it is a pure CBD hybrid;
CBD content is 12% and higher;
THC concentration is next to zero;
main terpenes that map out the weed's flavor and effects are: myrcene, pinene, caryophyllene, alpha-bisabolol, limonene;
the most popular indications of Charlotte's Web are seizures, pain, appetite disorders, psychiatric ailments, etc.;
prevalent effects are enhanced focus, relaxed body, and dry mouth;
Charlotte's Web causes no psychoactive effects;
dominant flavors are earthy, piney, herbal, sweet-fruity and citrus.
Chemistry and genetics of the Charlotte's Web strain make it a unique and sought after medical weed fancied by thousands of users.
Lineage of Charlotte's Web CBD
Most of you, what do you think when you hear "smoking pot"? Mainly, people imagine couch-lock with stoned mind and body. And, of course, lots of laughter and uncontrolled desire to munch something. However, with such cultivars as Charlotte's Web, marijuana became something much more that just a weed to get high.
That was made possible by the huge work of breeders from the Stanley Brothers company, Colorado. Originally, this team of cannabis developers tried to breed the hemp that will embody never-before-seen amount of CBD, along with the specific medicinal potencies. Charlotte's Web is their most acknowledged brainchild.
There is little to no information about the lineage of the Charlotte's Web CBD strain. We do not know the genealogy of this hybrid, but we know that Charlotte's Web was initially a company and an idea to help many people. The history of this CBD cannabis started from Charlotte Figi. This little girl suffered from severe epilepsy, and was cured by the hemp.
Charlotte's Web Uses & Actions
Here are the basics about the Charlotte's Web Effects:
| | | |
| --- | --- | --- |
| Health Effects | Recreational Effects | Adverse Effects |
| Antidepressant | Increases focus | Cottonmouth |
| Anxiolytic | Improves mood | Dry eyes |
| Anticonvulsant | Boosts brain activity | Binge eating |
| Muscle and mind relaxant | Supplies zest for life | Dizziness |
| Anti-inflammatory agent | Makes you happier | Headache |
| Powerful painkiller | Puts you into a meditative state | |
| | Makes you more creative and productive | |
Note, though we've mentioned some side effects of the Charlotte's Web cannabis, they are extremely few and far between. You should really try hard to overdose this weed, and each case of negative reactions to it is unique and related to personal intolerance to the hemp.
Smell & Taste
Talking about the effects of Charlotte's Web strain, we cannot but mention its aroma and taste. The first hints that tickle your receptors are earth and pine. You feel them right after you open the package with the pot, and they become much stronger when you take a puff on Charlotte's Web pot.
The scents are pleasant and bright, but not offensive. The taste that comes pari passu with the aroma enswathes your tongue with the sweet fruity hints mixed with the major flavors or the fresh soil and wood. You'll feel lemon, slight hues of berries and grass, pine, and sage. However, none of those will disturb you, neither they will last longer than you smoke a joint.
Charlotte's Web Appearance & Consistency
The Colorado breeders took some time to work on the Charlotte's Web beauty. The flowers have long bright-green leaves, and they are abundantly covered with the pale green and orange pistils. The hairs are thin and densely pleached with each other, making the Charlotte's Web buds look solid and firm.
Trichomes cover the leaves and the entire nug with the thin, almost unnoticeable shawl of white crystals of resin. This lack of so usual frost that we expect from cannabis comes from the low THC level. Still, the true value of Charlotte's Web strain is not its eye-catching appearance, but the amazing CBD content and beneficial effects.
Charlotte's Web Price
The official website of Charlotte's Web offers various products derived from this strain. Oils, topicals, gummies, capsules, all for reasonable price. If you want to puff on a joint with the weed, you can find lots of offers on the net. It is better to purchase larger amounts, for example, 1 ounce costs around 100-130 dollars, while 1 gram can go for 10 bucks and more.
Takeaways
As you can see from this Charlotte's Web review, this strain is not only the best medicine for multiple health issues, but also one of the best deals on the market. What makes it even more attractive is that it is fully legal due to its almost undetectable THC and thus — next to zero psychoactive effects. Charlotte's Web CBD strain is a huge support both for your body and mind, and the best buddy for you in the day-to-day routine.