What is the most prominent concern about any drug or medicinal herb? Right, we all are afraid of side effects. For marijuana, its psychoactive performance is commonly considered its main undesired action. Lots of people steer clear of smoking pot because they don't want to get high and are afraid of addiction. What if you find out about the strain that is completely safe and risk-free? ACDC CBD is one of them.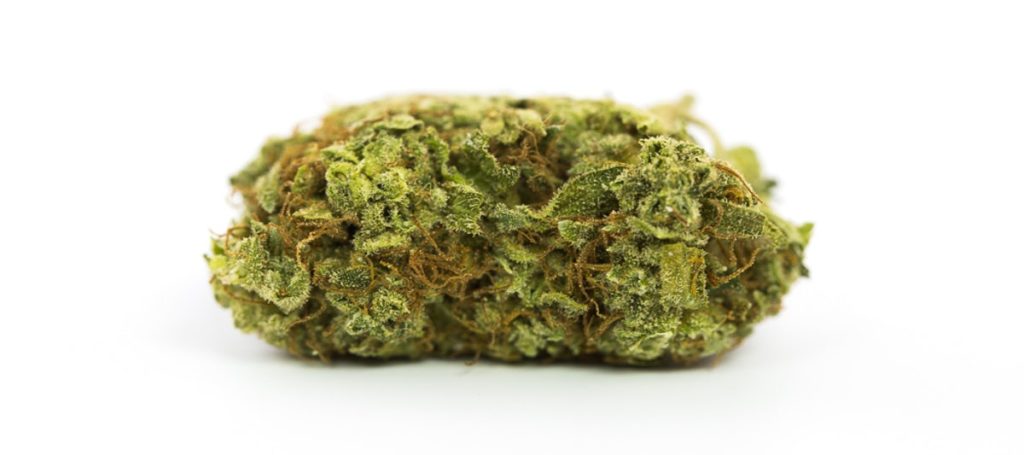 ACDC fans claim that after smoking this pot they stay who they are, can do their day-to-day work, and at the same time, they get all medicinal benefits of marijuana. From this ACDC review you'll see why it is so special. Let's start from the beginning and look inside this strain: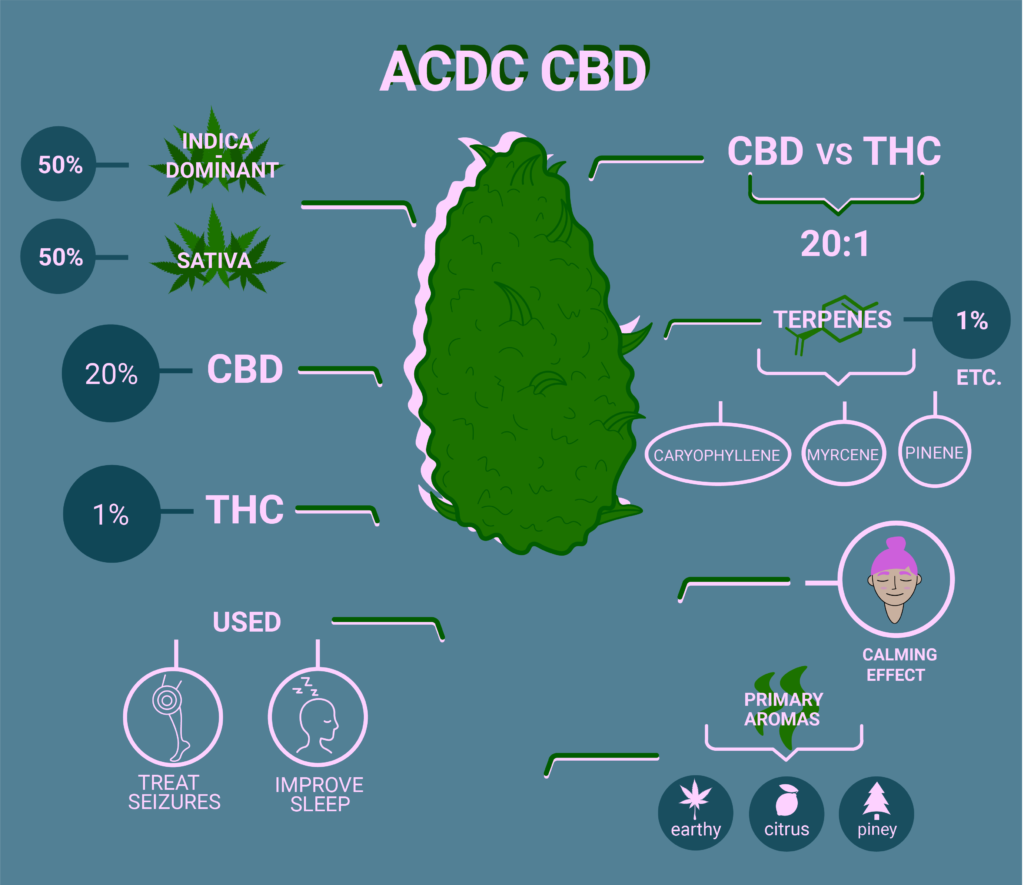 it is a balanced 50/50 sativa and indica hybrid;
it has astonishing 20:1 CBD vs THC ratio;
its recuperative powers result from one of the highest CBD concentration, which is ~20%;
THC content is almost non-existent, less than 1%, this is why it has almost unnoticeable mind-altering effects;
terpenes of ACDC make something about 1% of its dry mass, but they play a great role in its performance;
major terpenes found in the weed are pinene, caryophyllene, myrcene, limonene, guaiol, and humulene;
it is mainly used as a painkiller, to treat seizures, and to improve sleep;
ACDC hemp is rather calming than energizing;
prevalent flavors are earthy, piney, citrus.
Indeed, those who've once tried ACDC CBD strain do not want to change it for something else.
Where It Comes From
Resin Seeds is a famed cannabis breeding company that is based in Spain. Their cultivars are well-known all over the world. One of them is Cannatonic, the iconic and widely known CBD weed, which was born from crossing G13 Haze and MK Ultra. Some phenotypes of this strain showed even higher than usual level of CBD, and Resin Seeds decided to develop this beneficial property.
Unlike most of other strains, ACDC has only one parent strain. The breeders selected the best flowers with the best qualities, and crossed them. Finally, they've got the desirable result. New hemp was named ACDC, and now it is recognized as an independent weed that gave life to many other hybrids.
How It Works
Unique powers of the ACDC CBD strain grow out of its unique chemistry and genealogy. ACDC inherited the ability to alleviate pain and stress, along with slight peppery and piney notes of aroma, from its single father. The abundant cannabidiol in this hemp works as a medicine for lots of health issues, we'll talk about them further. Terpenes work for its flavor and taste, as well as for some specific medicinal properties.
When smoking ACDC, the first feelings that come shortly after the first inhale are relaxation and calmness. The best thing about it is that this weed does not cause sleepiness or couch lock. On the contrary, the second wave of the ACDC action brings slight euphoria, better mood, vigor, and pleasant sensation of body and mind relief. All the more, with this CBD weed you'll become more motivated and focused on everyday tasks.
Health Benefits
ACDC strain starts working quickly, but the effects do not last for a long time. At the end, you'll feel little drowsiness, yet it is completely controlled and can be even helpful in case you smoke pot before going to bed. Here are some other health issues that can be treated with the ACDC hemp:
mood and psychiatric ailments, like depression, anxiety, stress, bipolar disorder, attention deficit disorder, etc.;
CBD cures spasms and seizures related to epilepsy;
cannabis is a powerful and safe analgesic, helps with the most severe pain caused by cancers or joint problems;
pinene is a powerful antibiotic;
myrcene normalizes sleep;
linalool gives rest to your brain;
caryophyllene works as an anti-inflammatory agent.
Being completely safe, ACDC is good for both newcomers and experienced users.
What It Tastes Like
ACDC CBD pot has bright and heavy odor that overwhelms your senses with sweetness and menthol. In fact, the major aroma of ACDC that tangs throughout the entire time of smoking is minty pine. It fills your nose with coolness that is mixed with the fresh cut grass and pepper. Earthy and gasoline-like hues, so common for marijuana, come afterwards, as faint undertones.
The taste of ACDC repeats after its aroma. Some say that the flavor is not the strongest point of the hemp, emphasizing on its effects. Well, yes, the taste does not shine on the huge variety of hints and tinctures. Still, the combination of earth, wood, and pine, all with the overriding sweetness, leave only pleasant feelings. All these tastes come together at once, making it a one-note flavor.
What It Looks Like
While the taste of ACDC marijuana can be considered as plain and monotonous, its appearance is pretty and bright. The flowers are mostly green, with the thick brushstrokes of yellow and purple. The colors shine like neon lights. Long hairs spring profusely from the bud, they are orange and lime.
The nugs are all covered with orange and yellow pistils that curl and swaddle the middle-size buds. They do not seem frosty, lacking trichomes with resin crystals because almost zero THC level. By touch, they are dense and firm. When broken up by fingers, they leave fragrant and little sticky layer on the skin.
Final Thoughts
There are numerous offers of the ACDC flowers and buds online, you can easily buy 1 gram or ounce. Of course, the more you buy the cheaper the product gets. 30 grams of the ACDC CBD flower cost ~150-160 bucks. It means that 1 mg of cannabidiol in this strain makes a couple of cents. Thus, this is one of the cheapest medicines you can get.
This hemp needs no introduction or advertisement, it already enjoys huge popularity among pot users. This is why you should be very careful when choosing a supplier. Always buy from trusted and reputable resources. Original authentic ACDC weed will give you all you can expect from cannabis. Hopefully, this ACDC CBD review can help you make a decision.