Some people smoke marijuana to get high — they enjoy this feeling of happiness, tranquility and easiness, like laughter and relax time with friends, or go deep into meditation by means of psychoactive powers of weed. Others seek after pot cultivars that do not impact their mind, yet produce medicinal effects and treat various diseases and ailments. What if you need both?
In such a case, you should take a close look at CBD OG Kush strain. We remember, that two major chemical elements of cannabis — cannabidiol (CBD) and tetrahydrocannabinol (THC) — provide main properties of marijuana. The former takes care of our health, treats seizures, alleviates pain, boosts brain activity and improves focus. The latter is responsible for "high" feeling, euphoria, fun, and altered perception and thinking.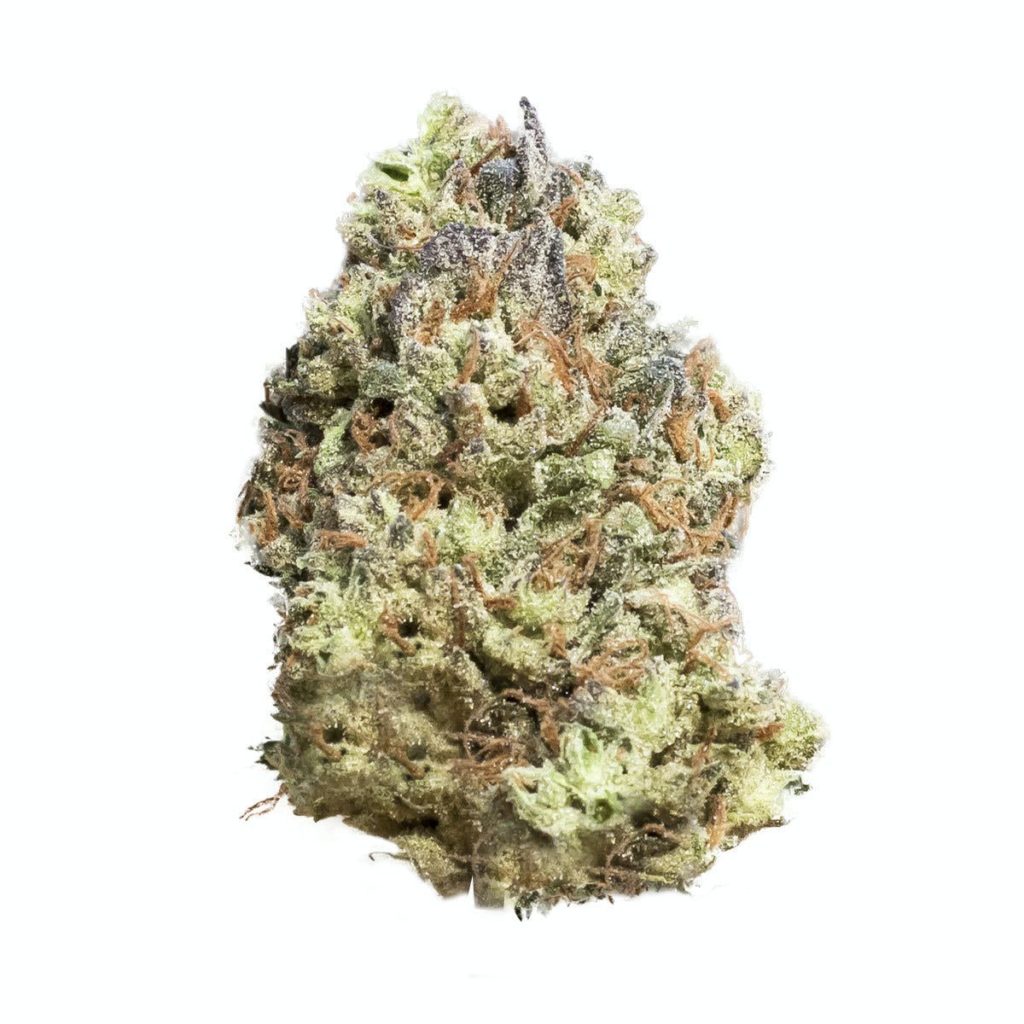 CBD OG Kush strain is the kind of weed that contains both ingredients in a sufficient amount, thus you get both benefits from one joint. Let's see the basic statistics of CBD OG Kush: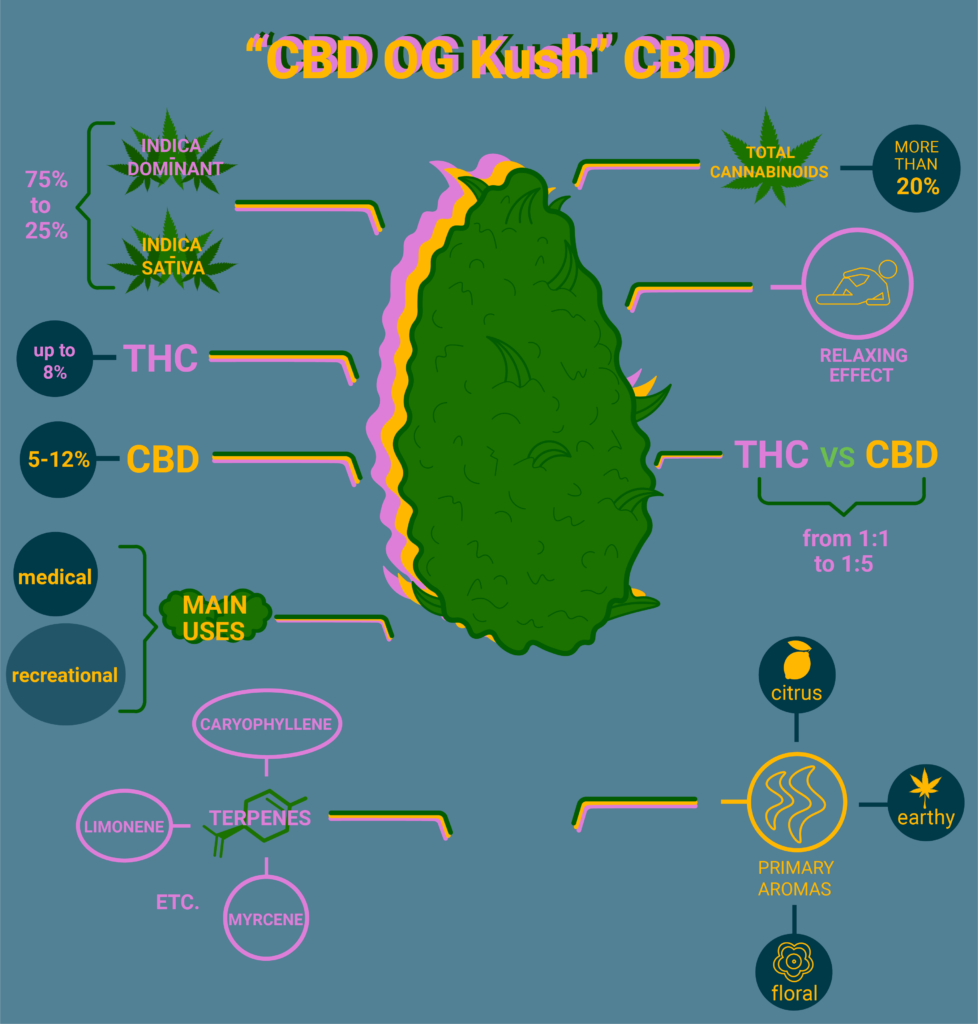 it is an indica-dominant 75% to 25% indica-sativa hybrid;
this strain includes more than 20% of total cannabinoids;
THC content is up to 8%;
CBD content is from 5% to 12%;
THC vs CBD ratio from 1:1 to 1:5;
major terpenes of CBD OG Kush are limonene, myrcene, pinene, caryophyllene, humulene, linalool, etc.;
predominant effect is relaxation;
prevalent flavors are earthy, floral, citrus;
main uses include both medical and recreational.
In this CBD Og Kush review we'll give you deeper insight into this strain and help you make a choice.
CBD OG Kush Origins
CBD OG Kush is the brainchild of a famous team of marijuana enthusiasts and weed breeders CBD Crew. Actually, it is a cooperation of three individuals from different countries. Before the foundation of their new company, they've had huge experience of creating CBD-rich weed cultivars in Nice Seeds and Resin Seeds.
To create the novel high-CBD hybrid, they took a popular THC-strong OG Kush strain and did a huge work to enhance CBD content in this pot variety. At last, CBD Crew crossed OG Kush with Quimiotipo CBD, and named their offspring CBD OG Kush strain.
CBD Og Kush Appearance and Consistency
The flower of the CBD OG Kush cultivar is really beautiful. It combines fleshy yellow and grass-green leaves covered with tiny sparkling flakes of crystals. The green color is interspersed with bright pink, pale yellow, white, and orange pistils. The entire flower is covered with the flimsy blanket of tiny hairs that look like the hoarfrost in the morning sunshine.
The bud is pale green with orange and yellow veins. It is also abundantly covered with white crystals that make the nug sticky and oily by touch. Buds are medium in size, not too dense, but at the same time not easy to break up between fingers. This is a good yielding strain, but the plant is not high, which makes it perfect for growing indoors.
CBD OG Kush Smell and Taste
The first sniff of the CBD OG Kush weed, right after you open a package, brings bright and strong floral and fruity aromas. If you smell it right from the bag you'll feel earthy notes, like the good old pot we all have got used to. The smells are not offensive, they make you want to roll a joint and take a whiff.
Tasting the smoke of CBD OG Kush for the first time, you'll be surprised with its fruity citrus flavor dominating over others. However, in a minute you'll feel earthy and piny notes with the musky aftertaste. Afterall, CBD OG Kush strain has rather traditional smell and taste with the unique combination of its own savors.
CBD OG Kush Uses and Effects
As it was already said, CBD OG Kush provides strong THC effects together with all benefits of CBD. Thus, smoking this weed you'll get the feeling of happiness and euphoria, laughter, altered coordination, relaxation and a little bit blurred thinking. However, CBD OG Kush smokers report that it keeps their minds fresh and clear, the weed does not chain people to the couch or make them look and act like completely wasted.
Thanks to high content of both cannabinoids, as well as unique combination of terpenes, CBD OG Kush weed produces the following medicinal effects:
relieves acute pain;
treats epilepsy and seizures;
prevents and reduces muscle spasms;
treats chronic pain caused by arthritis and osteoporosis;
cools down inflammations;
helps people quit drinking;
it is perfect for mood swings, depression, chronic stress and anxiety, panic attacks, etc.
CBD OG Kush pot is not the most popular product on the market, but it is rather new. Looking at its numerous benefits, we can say that it will earn its fans soon.
Takeaways
As you can see from our "CBD OG Kush" CBD strain review, this cultivar is a good choice for those who look for both pleasure and medical aid. At the same time, you literally can make a profit of it. The price of the CBD OG Kush hemp is average, it hovers around 10 dollars per gram. Also, you can get 5 seeds for 35 bucks, and in 8-9 weeks you'll have your own weed at home. Be careful, though, in some states it is not legal.
We work across America: