Stephen King has contributed heavily to many of our nightmares and sleepless nights in fear. One of his most well-known evil heroes is Pennywise — a creature from beyond that looks like a creepy cannibal clown. We'd like to invite you to read this review of another Pennywise — a powerful, well-balanced, medical CBD-high cannabis strain with the same name. Unlike its namesake, this CBD weed will not keep you wakeful and shivering. Vice versa, with this Pennywise you'll feel relaxed, happy, cheerful, and full of life.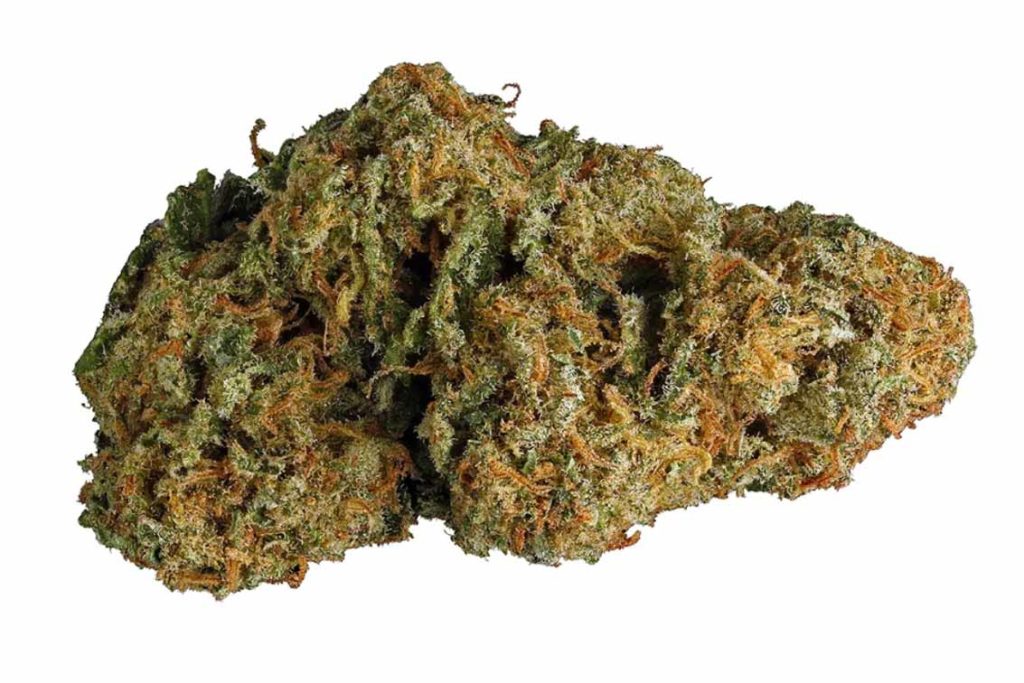 As well as with any other hemp flower, all beneficial actions of the Pennywise strain come from its chemical structure and heredity. The uniqueness of our weed stems from almost equal concentration of the main cannabinoids, THC and CBD. Cannabidiol is found in Pennywise in slightly higher amounts, this is why it is rather medical than recreational pot. Here are pure statistics of the Pennywise CBD strain: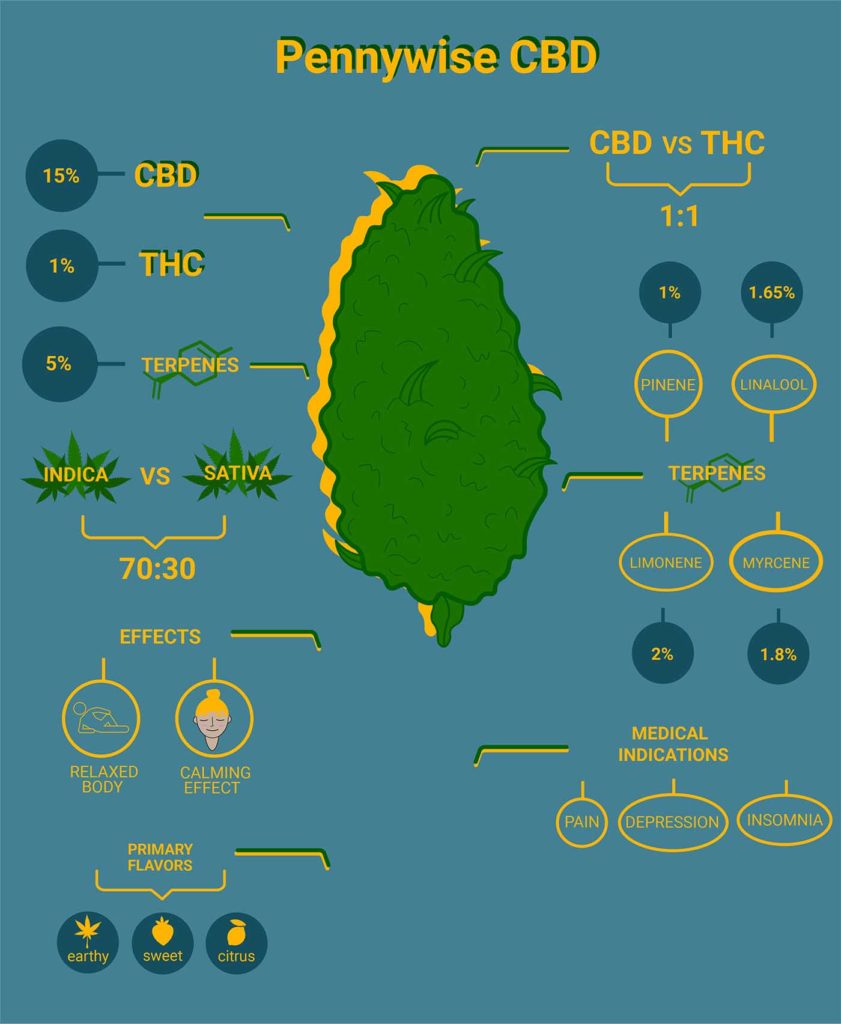 CBD concentration is 8%-13.5%;
THC concentration is 8%-15%;
normally, the crops have 1:1 CBD vs THC ratio, or CDB is a little bit higher;
total terpenes make more than 5%;
main terpenes are: limonene over 2%, myrcene more than 1.8%, linalool 1.65%, pinene almost 1%. Some other terpenes are present in lower concentrations — terpinolene, caryophyllene, humulene, etc.;
it is a 70:30 indica-dominant strain;
predominant effects are calming, relaxation, sleepiness;
the most popular usages are bad appetite, insomnia, depression, and pain;
Pennywise weed does perform a smooth psychoactive action;
it is popular as both medicinal and recreational weed;
major flavors are earthy, sweet, pine, and lemon.
As you see, this is the weed that can satisfy the needs of all pot lovers. Let's have a closer look at Pennywise.
Pennywise Effects & Benefits
As it was already said, the work of the Pennywise CBD weed is smooth and well-balanced, and people with different tastes and preferences make it their everyday choice. To help you understand better how it works and what it is used for, we've made this table of effects and benefits of the Pennywise CBD strain.
| | | |
| --- | --- | --- |
| Typical Effects | Most Popular Uses | Side Effects |
| Happiness | Depression | Dry Eyes |
| Relaxation | Anxiety | Dry Mouth |
| Calming | Stress | Dizziness |
| Euphoria | Chronic and Acute Pain | Body Numbness |
| Healthy Sleep | Appetite Loss | Feeling "High" |
| Cheerfulness | Nausea | Couchlock |
| Good appetite | Insomnia | |
| Better Focus | Chemotherapy Side Effects | |
| Creative Mind | Fatigue | |
| Zest for Life | Inflammation | |
| | Asthma | |
First of all, we must say that the negative effects are possible but not necessary. If they occur, they pass quickly and do not cause lots of discomfort. Pennywise works quickly, you feel the first signs of its job in a couple of seconds after the whiff. Your mind is focused, you feel high and alive. This weed can help you do your everyday job with less stress and efforts.
There is always some "but." In stronger doses, Pennywise will remind you that it is an indica strain. It will relax your muscles, calm down thoughts, numb your limbs, and lock you to your favorite couch. However, you'll still be able to keep meaningful conversation. This is the case when "high" does not mean stoned and totally wasted. Pennywise marijuana is perfect for both socializing with friends and cozy lonely evening all for yourself.
Pennywise Smell & Taste
The Pennywise hemp flower pleases your nose with the coffee-like, spicy and lemon odors. The dried and cured nugs reveal a wider palette of aromas that includes the notes of fresh soil, bubblegum, pepper, hash, and wood.
When you grind and smoke Pennywise weed, you feel the taste that is a stronger and brighter clone of its smell — sourness and spiciness will please your nostrils, while sweet and citrus flavor will envelope your tongue with every inhale. The fruity lemon notes are especially bright, and at the end this clown pot will leave you a slight feeling of pepper and earth in your mouth.
Pennywise Appearance
The flowers of our weed are small in size and tend have short and thick shapes. The buds look compact and very dense, very much like other indica phenotypes, but with loose long pale-green leaves. You'll also see abundant pistils that are orange and brown in color.
The entire flower is covered with the white translucent sheen of trichomes, each capped by a shiny drop of resin. Neither the flower nor the dried nug cannot boast of a wide range of colors. Green prevails over all other hues, and only orange veins of pistils motley the appearance of the Pennywise weed.
Pennywise Lineage
Pennywise cannabis was cultivated by the famous TGA Subcool Seeds team. These experienced breeders took two popular parent strains — Harlequin and Jack The Ripper — to marry and have a child. Pennywise strain inherited the features of both parents, it has relatively high CBD level with a noticeable THC amount.
Harlequin is a sativa hybrid, this is where Pennywise takes its ability to add you alertness and boost your mind. Its medicinal powers also stem from this ancestor. Jack The Ripper is a champ among the indica pots. It gave its child its quick onset and taught Pennywise how to make people happier and funnier.
Final Thoughts
With so many advantages of the Pennywise strain, we should not forget the most important one — its price. The cost is as low as of any other strain, you can buy it starting from 10 dollars per 1 gram. The price decreases with the growing weight of the package.
Think about one thing — you buy two weeds paying for only one. Why? Because you get both a medicine for your health problems and a good pot for a nice evening with friends. Hopefully, this Pennywise review was good enough to show you all benefits of this CBD strain.
We work across America: