In recent years, Elektra has become increasingly popular, especially in the west. The reason for this is the excellent ratio of quality, price, and beneficial effects on human health. It bears its name not for nothing — it seems to add energy to the body, eliminating drowsiness, and helping us overcome daily difficulties.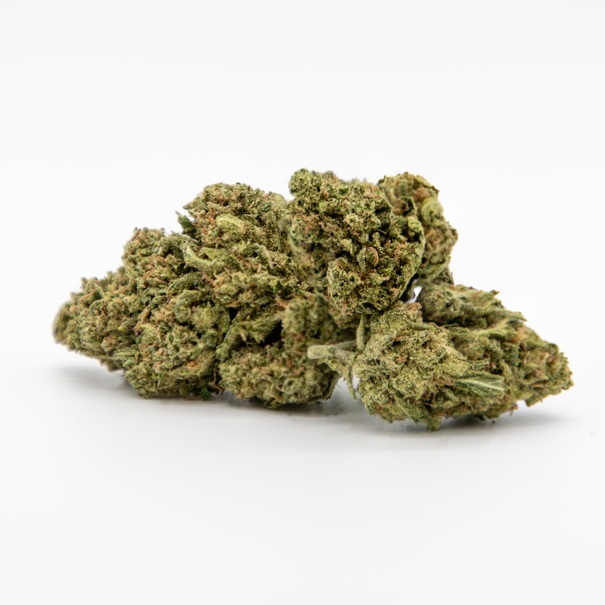 Elektra has high content of CBD and low THC concentration. Simply put, you will not lose self-control and your thoughts will remain clear after smoking. Elektra strain has the following characteristics: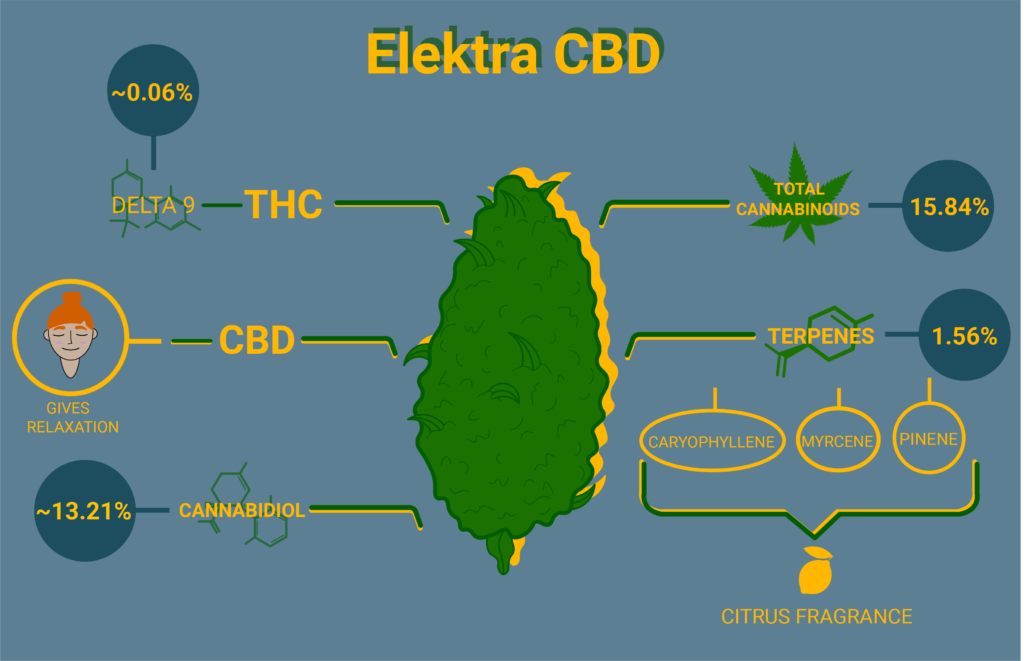 total terpenes amount is 1.56%, the most abundant ones are pinene, myrcene, and caryophyllene, they are key in making this weed so flavorful and tasty. Other terpens present in Elektra are limonene, nerolidol, and bisabolol;
total cannabinoids amount is 15.84%;
delta 9 THC content is ~0.06%;
cannabidiol makes ~13.21%;
Elektra strain is sativa-dominant;
this CBD strain will give you more concentration and relaxation than get you stoned.
Hereunder, you'll see the complete Elektra CBD review, and learn some new information about this medical weed.
Lineage of Elektra CBD
Elektra strain was cultivated by a reputed and famous cannabis breeding company Oregon CBD. Being only 5 years old, this team has become a creator of fully legal and award winning cultivars that enjoy the popularity among the most seasoned pot lovers. Elektra CBD hemp is one of them.
Oregon CBD wanted to improve the qualities of the old good ACDC strain, which had impressive 20:1 CBD vs THC ration, but was rather hard for field production. ACDC became the mother for Elektra, and the father was Early Resin Berry. The latter was the phenotype that flowered earlier and had more advantageous terpene profile.
The mother gave to Elektra hemp its CBD potency and medical properties, while the father made it high-yielding and easy-to-grow cultivar. The hereditary of both is the unique smell and taste of Elektra, wide range of uses, and beneficial chemical composition. This is how Elektra CBD took the 2nd Place of the Cultivation Classic awards in 2019.
Appearance & Consistency of Elektra
The thing that differs Elektra from other hemps is its beautiful flowers. They have long, thick juicy leaves that have very interesting natural paint job — they are green with bright and bounteous strokes of purple. Light-green and pale-violet pistils and hairs grow abundantly between the leaves, and the entire flower is heavily covered with sparkling resin-rich trichomes.
The dry nugs are also not very big in size and mostly green, however, they lose that beautiful purple hue. They are covered with the canals of pistils that become orange and yellowish. At the same time, the shawl of trichomes with white crystals become more noticeable and shiny.
Frosty and small buds look dense, and they are rather think and hard to break. By the first touch, they seem dry, but when broken they reveal their sticky and moist nature, making your fingers covered with oil and resin. Try not to touch your clothes after that, as stubborn stains are inevitable!
Elektra's Aroma and Taste
The first thing you get from Elektra is the sweet smell of red wine, berries, mango, and citrus fruits. The hints of a green pine tree, fresh soil, wood, and slight sourness come a little bit later. This diversity of aromas is what all loyal fans of CBD cannabis like about Elektra. Its abundant terpenes, like myrcene, pinene, and limonene, define the scent and flavor of this pot.
When you smoke it, the feeling is just like you eat mango with sweet berries. The taste is pleasant, with strong but not offensive notes of pine and  citrus. Earthy hints come at the end, after you exhale and wait for pleasant relaxation. The flavor does not stay for long, in a couple of minutes you won't remember if you've smoked any pot.
Elektra CBD Indications & Effects
Here are numerous health benefits that Elektra strain brings to the table:
it relieves pain caused by cancer, osteoporosis, arthritis, and migraines;
this CBD-rich marijuana mitigates muscle spasms;
it treats epilepsy, alleviating seizures;
Elektra hemp helps with many psychiatric and mood disorders: depression, stress, anxiety, ADHD, bipolar disorder, etc.;
it is used to improve motivation and concentration;
and to improve sleep.
The most prominent effect you feel after the first puffs on the Elektra joint is smooth yet powerful relaxation. It leaves your head clear, with focused and bright mind. There is no "stoned" feeling, you do not become lazy or too high. The effects are felt for amazing 4 hours, with the peak onset in a half an hour after the first inhale.
Price
An average price is 10 bucks per 1 gram of Elektra. This price, of course, varies from a store to a store, and can be reduced when buying large amounts of weed. That is definitely an honest deal for such a high concentration of CBD, which can easily mitigate bad physical pain. Taking into account the price of raw hemp and the concentration of CBD in it, we'll see that the price of 1 mg of cannabidiol is ~0.06$, which is a great deal for any pot lover.
Conclusion
As you see from this Elektra review, this strain can be exactly what you need after a stressful day, or when you suffer from severe pains, or simply when you need some time for meditation. You don't have to worry about getting too high, you can smoke without becoming someone else, and you do not get high. Sounds like a dream came true, right?
We work across America: