Lifter CBD strain enjoys huge popularity among pot fans, and there is a good reason for it. The name of this cultivar speaks for itself, as one of the first words that comes to people's minds when they try it for the first time is "uplifting". LIfter strain does not change your perception and personality. Instead, this Sativa hybrid brings wakefulness, energy, and makes you more concentrated. In this Lifter CBD review we'll help you get to know this hemp closer.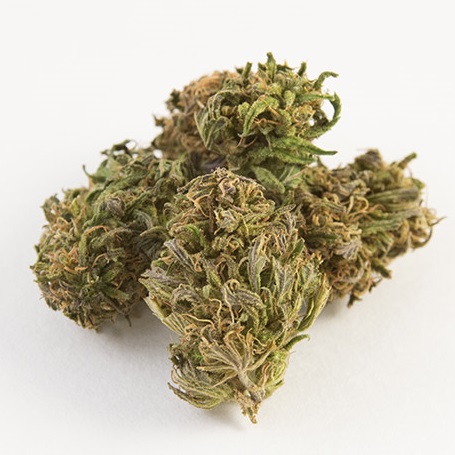 Unique chemistry of Lifter CBD hemp explains its rewarding effects: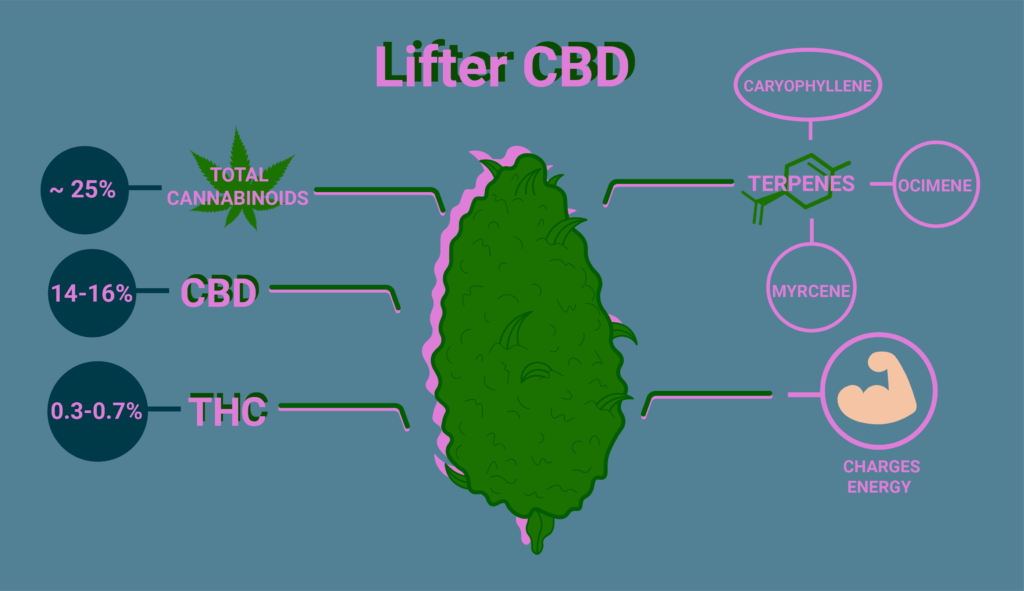 three most prevalent terpenes of Lifter, from most to least, are myrcene, caryophyllene, and ocimene. Some minor terpenes of Lifter marijuana are limonene, farnesene, bisabolol, etc.;
Lifter weed is a Sativa-dominant hybrid;
total content of cannabinoids is ~ 25%;
CBD/THC ratio is 14-16% vs 0.3-0.7% respectively;
the main action is energizing.
This combination makes Lifter strain a popular and best-selling CBD weed.
Little History
Lifter is a newcomer in the world of cannabis CBD strains, however, a very welcomed one. It already has lots of fans, this cultivar is a sought after CBD weed in most marijuana dispensaries. It was bred by Oregon CBD company, which is a parent of many other popular strains.
Lifter is a hybrid of two other Oregon's hemps — Early Resign Bud and Suver Haze. The first one contributes to the calming and relaxing properties of the LIfter CBD pot. Suver Haze strain is more famous among common users and farmers for its bright odors and easy cultivation.
Lifter CBD Fragrance and Taste
The combination and ratio of terpenes in Lifter CBD strain provide its bright and interesting taste and smell. The first thing you feel taking a whiff from the bag is a cheesy and smoky aroma that can seem too strong for novice users. However, giving it the second try, you'll feel earthy fragrance with the notes of cedar, lime, pineapple and berries with a prevalent yet delicate pepper smell.
The taste comes after aroma, Lifter strain is rich in herbal and wooden flavor, which is accompanied with pepper and cedar. The afterglow will remind you of ripe fruits, dump earth, cooling mint and sweet pineapple. Lifter weed is truly delicious regardless of the way you use it, and it is soft enough to be the best choice for marijuana first-timers.
Consistency and Appearance
Lifter has green buds with a brown tint and a plentiful coating of trichomes. Saturated green leaves can reach medium size. At the same time, the buds are noticeably longer than usual and seem to be stretched up. Lifter remotely seems a little frozen due to the rust-looking hairs that sprout abundantly in the center of the buds and become thinner and less noticeable at the edges.
Deep green color is sprinkled with bright yellow and orange tendrils, which make Lifter CBD weed flower look lively and fancy. In the processed, dried form, the strain is a cluster of dark green folded leaves and dark orange filamentous hairs. All this is combined by a light layer of resin, making this whole mass hardly sticky.
Effects
According to its name, Lifter will help you get out of the pit of despondency, prolonged negative thoughts, and tension. Such effects, as stress relief and mood improvement will emerge almost instantly after the first inhale. They last usually for about 4 hours, with the strongest manifestation starting from 30 to 40 minutes.
Lifter smoothly relaxes the body, relieving anxiety, but without creating an overly elevated state. It also normalizes performance, brain activity, and leaves clarity of thought. Summarizing, Lifter pot will help you cope with the following problems:
high blood pressure;
nausea;
chronic pain;
panic attacks;
bone ailments;
bad mood;
anxiety;
menstrual cramps;
muscle spasms.
This is exactly what we are waiting from our favourite CBD weed, right?
When and How to Use Lifter CBD Weed
An amazing and useful feature of this hybrid is that its usage goes way beyond smoking or vaping. These ways of weed consumption are effective and convenient, but Lifter CBD strain is also good for making CBD oil, that can be helpful for those, who strongly wish to get a high dose of CBD. Users with different experiences can use Lifter, without being afraid of becoming unproductive, sleepy, or thoughtless.
The strain will help you change the mood in the opposite direction and forget about the problems at least for a while. An excellent tip would be to use the Lifter flower with other relevant CBD products. Together with the balm, it will relieve joint pain, relax muscles, and reduce inflammation and aching pain. The Lifter bath provides the same effects.
Price
Lifter CBD hemp has extremely advantageous price-to-quality ratio. It has one of the highest content of cannabidiol among other cultivars. The average price is about 10$ per gram. It makes only 0.05$ for something about 200 mg of pure CBD.
And it should be remembered that when buying in large quantities, the price can decrease from 10$ to 8-9$. Due to such low costs and high efficiency, many people, seeking to increase their daily СBD level, include Lifter in their list of main purchases. If you like what you see in this Lifter review, order it now.
We work across America: