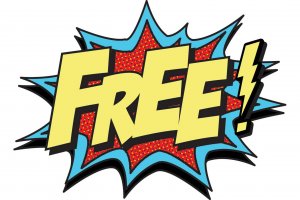 If at the moment you cannot afford to pay for the issue of MMJ ID card, then there are good news for you — Dr.Weedy online service provides an opportunity to pay for the doctor evaluation services and get a Medical Weed Card for free using the referral program.
So, you want to get a free Medical Cannabis Card?
A flexible referral program is available to each registered user on the project's website. Thanks to it, you can not only get a free Medical Weed Card but earn real money!
In order to understand how the referral program of the project works in details, let's see an example.
Issuing a free Medical Card
To get started, go through a simple registration on the project website and then go to your personal account page. Each user's personal account contains a referral link for inviting friends to the program.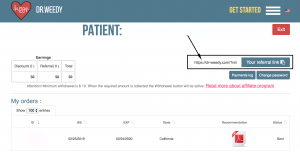 What to do next?
Share this link with friends who plan to issue an MMJ card in the future. After each payment of Dr.Weedy services by your friends, you will receive 10% of the amount to your personal account. Therefore — the more your friends register on the project site and pay for issuing a card, the more money you will get. After a sufficient amount of money has been collected in your personal account to pay for a Free Medical Card, you can exchange it and immediately get one! Also, in the same way, you will be able to collect the necessary amount for something else.
How to make money with Dr.Weedy?
If you have your own website or you have enough influence in social networks, you can publish your referral link on the Internet and everyone who uses it when registering for a project will bring you 10% of their payment for issuing a recommendation or an MMJ card. Thus, by attracting more readers/viewers/subscribers, you can earn really good money, which you can spend not only on issuing your own Medical Marijuana Card Free online but also spend this money on other services from the list on the other site. Use your knowledge in advertising in order to spread information about the project, and thanks to the referral program, you can earn even more!
"Even for something free, you need to make an effort" – Dr.Weedy