We live in an era of marijuana. Thanks to cannabidiol, cannabis is gaining popularity, not as an intoxicating drug, but as a natural cosmetic ingredient to maintain beauty and health.
The weakening of marijuana laws and the enthusiasm for new science direction, where cannabis is not an enemy, but an object of research, awakens a desire to look at this plant from a new angle.
— What we don't know about cannabis yet?
— What role does it play in the beauty industry?
— What are the ways and means of its application?
— And what benefits does it have for cosmetic use?
Read the answers to the questions in this article.
How cannabis works in beauty products.
The most common marijuana skincare products are balms, lotions, and creams that contain cannabidiol (CBD). This component has no psychoactive effect and is derived from industrial hemp.
If you take cannabidiol as a dietary supplement, it will enter the bloodstream, affecting the body's receptors. If you smear it on the skin, then it will only affect an applied area.
Hemp oil-based products help restore dehydrated skin, regulate the secretion of the sebaceous glands, reduce inflammation.
Cannabis contains useful minerals: magnesium, calcium, sulfur, iron, zinc, phosphorus. Proteins, carotene, and antioxidants are also observed in hemp oil.
As for vitamins, they are groups A, B-s, C, D, and E.
Hemp oil is also a valuable source of nutritious protein and provides all twenty amino acids, and the percentage of fatty acids is an order of magnitude higher than that of other vegetable oils. It is enriched with mono- and polyunsaturated fatty acids (Omega-3, -6, -9), macro and microelements, fiber.
Because of its composition, the cannabis-based funds act softly, while effectively performing their functions. Do not cause dryness, allergic reactions.
Cannabidiol is great for healing damaged skin, normalizing dry skin, and helping with inflammation.
Also, used in the treatment of psoriasis and eczema.
In addition, it has a broad spectrum of UV protection for the skin.
Cannabis hemp cosmetics: benefits
Effects that are achieved after regular use of cosmetics with cannabis extract:
Skin regeneration at the cellular level: active ingredients stimulate the production of collagen and elastin, lipid metabolism, activate the internal reserves of the epidermis at the molecular level. As a result, the external condition of the skin improves, it becomes firm and elastic.
Intense hydration: cannabidiol molecules in combination with other active ingredients of the product restore the structure of cells at the dermal level. The presence of collagen and hyaluronic acid helps to normalize the hydrophilic balance. After just a few applications of marijuana makeup, the skin becomes fresher and more radiant.
Deep hair reconstruction: shampoos and balms contain a high concentration of ingredients necessary to maintain healthy curls. Restore the skin microflora, delicately cleanse from impurities. Cannabis extract acts as a powerful antibacterial agent that relieves irritation.
The solution to dermatological problems: cannabis extract regulates the production of sebum, reduces the number of blackheads, acne, and inflammation.
Correction of age-related changes: micro- and macro elements, a complex of vitamins, fatty acids, acting in combination, provide a "lifting effect" — the depth of wrinkles is reduced, turgor and skin tone are increased. As a result, the oval of the face becomes more toned and pronounced.
Antioxidant effect: nutritional and antioxidant properties of vitamin complexes enhance the effect of a cannabis extract, helping to cleanse the skin from toxins that accumulate under the influence of environmental factors (pollution, dust, ultraviolet rays). 
Types of cannabis hemp cosmetics: care, wellness, beauty.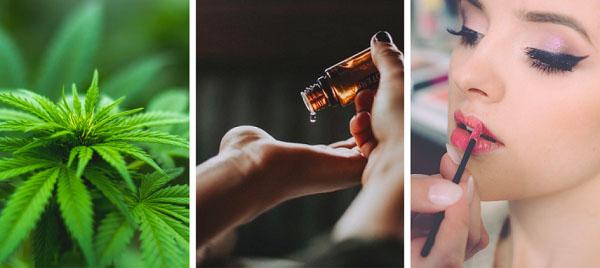 Companies present several lines of cannabis-based products that allow consumers to choose a product for a particular need.
Series:
Cosmetics for face skin (balms, gels, creams, masks, fluids, scrubs, tonics, cosmetics around the eyes). Helps to address age-related skin changes, eliminate pigmentation, acne, and other imperfections.
Body cosmetics (creams, scrubs, milk). Designed to provide comprehensive skin care, prevent early signs of aging, and protect against UV rays. They soothe inflammation, moisturize, and replenish the balance of beneficial trace elements and vitamins.
Cosmetics for hair (shampoos, balms, conditioners, masks, sprays, serums). Regular use of products provides a deep reconstruction of weakened hair, prone to splitting and breakage.
Bathroom products (soaps, bath bombs, salts, shower gels, relaxation oils) Cannabis extract ensures the normalization of water balance at the cellular level and protects against the negative effects of weather conditions.
Decorative cosmetics (mascara, blush, shadow, powder, matting wipes, glitter makeup, primers). Fatty acids in cannabis oil help strengthen and grow eyelashes and provide important proteins and for the skin.
Sunscreen cosmetics (sunscreen sprays and creams). Hemp seed oil helps deflect UV rays without affecting the absorption of vitamin D.
The future of cannabis-based cosmetics.
The range of cosmetics with cannabis is expanding, there are individual brands that produce only it.
This production growth is facilitated by the gradual legalization of marijuana in the world and the destruction of stereotypes around the 420 culture. Cannabis cosmetics are not a ubiquitous product, especially in the CIS countries. But in Europe, which tends to be quite loyal to marijuana, Canada and some US states offer a wide variety of cannabis beauty products.
Natural cosmetics are more than a trend, fashion trends, or a modern challenge. Despite the regular appearance of new products, products with an organic composition always remain out of the competition. After all, only natural ingredients can comprehensively care for the skin and hair, replenishing the balance of those micro and macro elements, vitamins that they need.
Due to their unique properties, cannabis products can be used both in the work of professional cosmetologists and as complete home care.
We work across America: